A delicate flower tea made with fresh dandelion flowers, honey and a hint of lemon. Easy to make herbal tea, which is perfect for every day. Can be served hot or cold.
Dandelion Flower Tea & Me
As children, we used to help our great grandmother to pick herbs and plants to dry and keep for winter to make tea. She would always make something out of nothing like this simple, but tasty Rosemary & Lemon water.
Somehow, it wasn't until I was a bit grown up and we spent the summers backpacking, that I discovered (to my sheer surprise!) that you can make tea from fresh flowers, leaves and herbs too!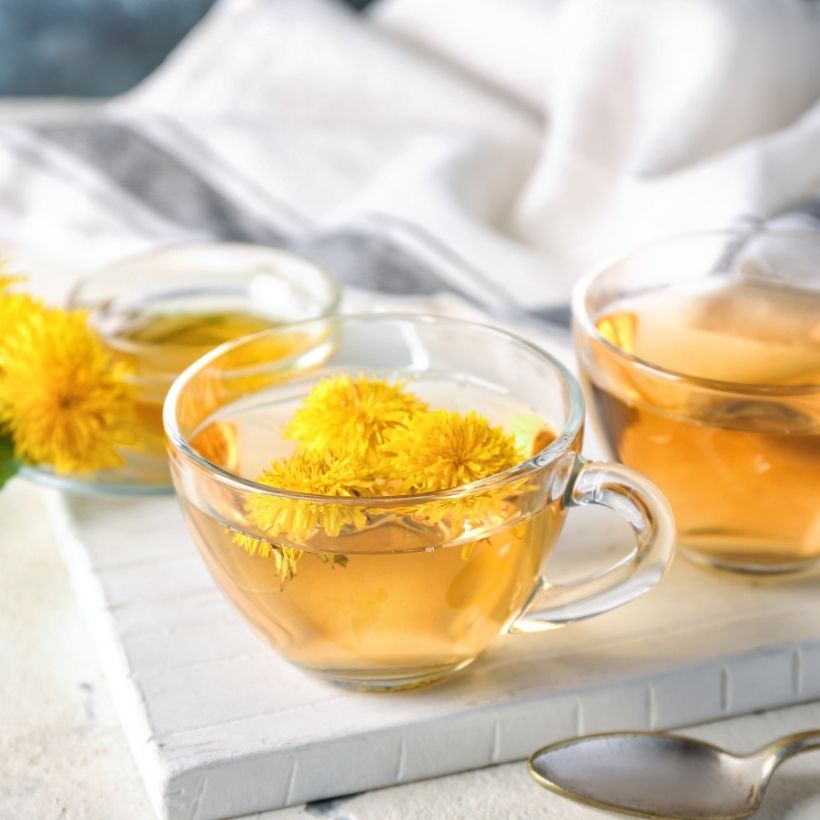 At this point, you are probably thinking: 'I didn't even know you can make tea from anything else than just a tea bag!' Yes, I know, my childhood was a bit different to most people…of my age…
If you've enjoyed my Iced Peach Tea, I'm sure you'll love this recipe too!
MORE TEA RECIPES
Reasons to drink dandelion tea
At this point, you might be also thinking, why even drink dandelion tea. Well, here are few points that might make this a little clearer:
There are plenty of dandelion flowers around from early march to late summer and most people regard them as a weed. You'll feel pretty smug knowing that you can make tea from the flowers and save yourself some money and a trip to a specialist herbal shop!
Tea made from dandelion flowers is quite delicate and it's very soothing for the stomach.
It's very safe way to start drinking herbal tea. You can make the dandelion tea a bit stronger if you like, by adding more flowers (or infusing the flowers for bit longer), but I find that the delicate flavour is a great change from a traditional black tea and it's very rarely bitter, unlike other teas.
MORE DRINK RECIPES
How to prepare your dandelion flowers
First of all make sure that you collect your dandelions from a clean, non-spoiled area. This could be your own garden, meadow or countryside.
Beware of picking the flowers from roadsides, frequently visited parts of your local park or meadows next to commercial farms or anywhere where you think the dandelions might have been spoiled by pollution.
Pick the whole stems like picking a bouquet of flowers and take them home. If you hold your flowers upside down, any bugs or little creatures will fall out naturally and you won't end up with them in your tea.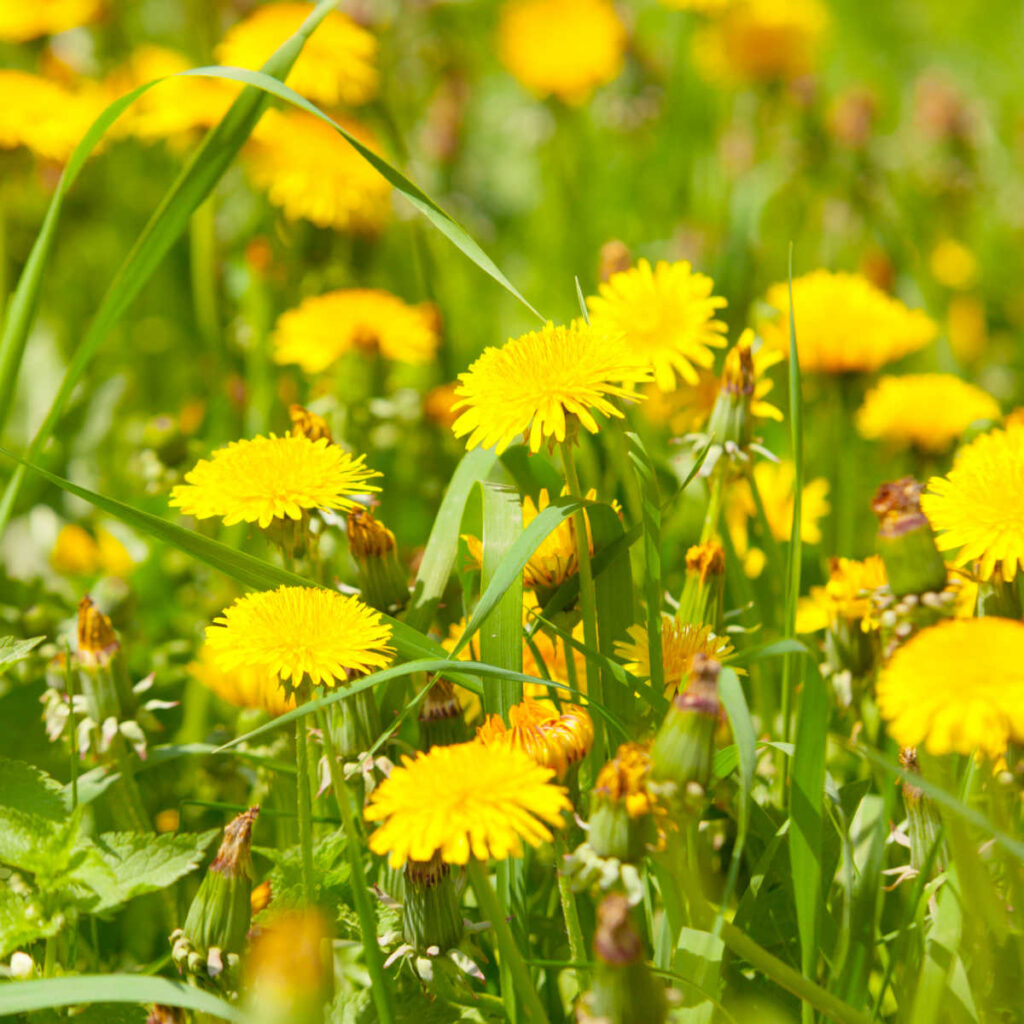 Ingredients
dandelion flower tips – see above on how to prepare them
water – freshly boiled
honey  – or sugar, maple syrup or agave syrup
lemon juice – or lime juice
How to make your dandelion tea
But, getting back to the subject of dandelion tea, let me share with you how easy is to make this flower tea recipe.
Pick out the yellow and white flower stems and place them in the tea pot or a strainer. Pour boiling water over them, leave to infuse and add a few drops of lemon juice and honey if you like.
CAKES & BISCUITS TO SERVE WITH YOUR TEA
How else you can make dandelion tea
I like to make my dandelion tea quite simple, like my original recipe, but sometimes it's nice to add few extra ingredients or combine different flavours. Here are just a few variations, I've tried over the years.
Dandelion & Lilac Tea
Lilac has a quite strong flavour, but it really complements the fine fragrance of the dandelion. Pick fresh lilac (they usually bloom around spring time) and pick over the flavours, selecting just a few.
The best proportions, I've tried so far are 1/3 lilac and 2/3 dandelion flowers otherwise the lilac tend to overpower the dandelion flavour.
Dandelion & Cinnamon Tea
Dandelion has such a delicate flavour, but combine it with a honey and a little bit of cinnamon powder, the flavour gets even better. Add a tiny pinch of cinnamon to the tea as you are pouring the water over the dandelion flowers.
How to make dandelion tea all year round
For this recipe, I've assumed, that you have fresh dandelion flowers because they are just so easy to pick and grow pretty much anywhere.
But if you wanted to make this herbal tea recipe all year round, you would need to dry some dandelion flowers, whilst they are in the season.
Dandelion flowers are very delicate and a bit tricky to dry. You need to pick them early in the morning and dry them as quickly as you can, otherwise they will turn into seeds (the fluffy white seeds that can travel in the air).
The best way to do this, is to pick the flowers when they open the morning and use dehydrator to dry them.
If you don't have a dehydrator, you can also dry them in the oven on the lowest setting (and with the oven door partially open or ajar).
I prefer to dry my herbs on indirect heat, but with dandelions, you can also dry them on a full sun, if you don't have other ways of drying them.
Once completely dry, scoop up the flowers into a glass jar and keep somewhere dry and out of the sunlight.
Use within the next 6 months.
If using dry dandelion flowers, you will only need about 1 tablespoon per 500 ml (2 cups) of water (serving 2 people or a one very large pot).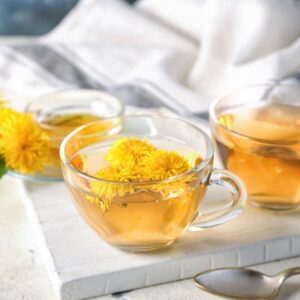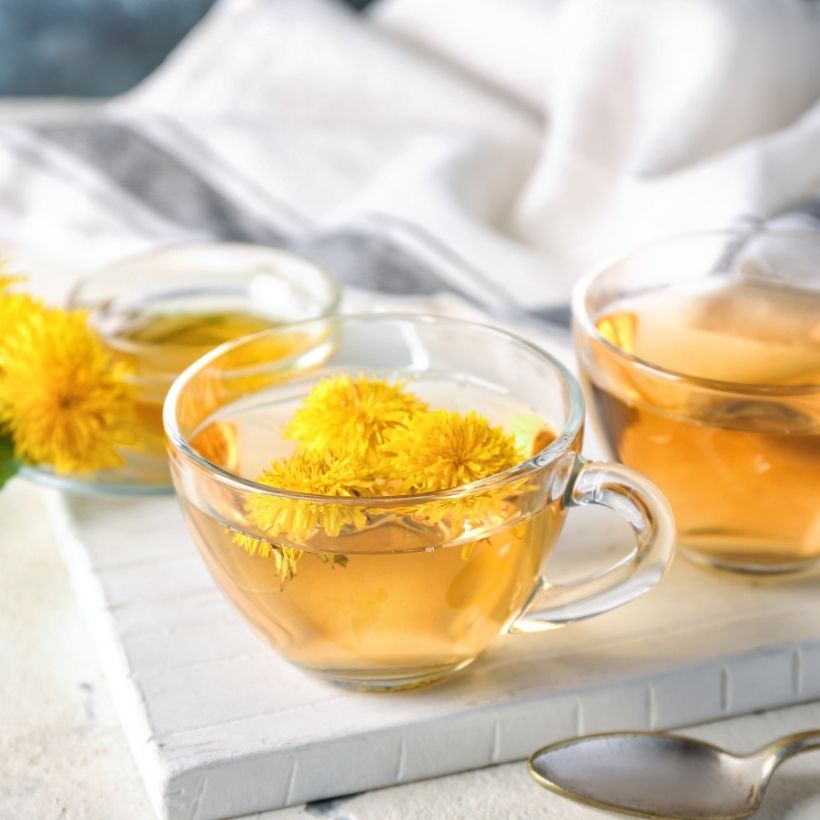 Dandelion flower tea
A delicate flower tea made with fresh dandelion flowers, honey and a hint of lemon. Easy to make herbal tea, which is perfect for every day. Can be served hot or cold.
Ingredients  
handful

dandelion flower tips

more if you'd like your tea to be stronger

500

ml

boiling water

1/2

tsp

honey

or more to your taste

lemon juice

to taste
Instructions 
Collect a handful of dandelion flower tips and remove them from the green parts. Place in a tea pot or in a larger strainer.

Boil water and pour over the dandelion flowers.

Leave to infuse for 5-6 minutes.

Remove the dandelion flowers by pouring over another strainer or taking the strainer out with the flowers.

Add a bit of honey and lemon to taste. The dandelion flavour is quite delicate, so don't overdo it with the additional flavours.
This blog post was originally written on 30 August 2020 and last updated 10 October 2022