Traditional sourdough bread is suitable for vegan diets, but you need to double check with your bakery, just in case they have added any ingredient that's not plant based.
In this blog post, I've included the different types of sourdough bread which are most likely vegan (traditional bread, rolls, pizza bases) and which are not (croissants, brioche, panettone etc.)
If you bake your bread at home, you probably know the answer to this question, because you know what you put into your bread. If you want to bake vegan sourdough bread, you can easily do that.
Sourdough bread has an amazing flavour, and although not necessarily gluten free, it's much easier to digest and gentler on our digestive system than other types of bread.
If you are buying bread from supermarkets, artisan bakeries or even from your local baker, you might be wondering if sourdough is vegan and suitable for a plant based diet.
SOURDOUGH BREAD BAKING RESOURCES
Sourdough bread labelling requirements (UK)
It sounds like a simple question to answer, but the problem is that most mass produced bread has additional ingredients that are not plant based or suitable for vegan diets.
What makes it worse, is that in the UK , the legal requirement for food labelling doesn't include goods that are sold unwrapped.
This means that if you go into a supermarket or your local bakery and they display their bread on the shelves, baskets or trays unwrapped, they don't have to legally include a label with ingredients.
Saying that, most bakeries, especially artisan bakeries will have trained staff who will be able to tell you if any of their products include any allergens or non-plant based ingredients.
In any case, I think it's worth knowing to hand what type of sourdough is and isn't suitable for a vegan diet, so that you can choose your bread without worrying about accidentally eating something that you don't want.
MORE SOURDOUGH BREAD RESOURCES
Sourdough Starter
My basic sourdough starter includes only rye flour and water. However a lot of people might add other ingredients that encourage the growth of yeast bacteria.
These ingredients can include grapes, grated apple, apple juice, which are all vegan.
The starter can also include natural yoghurt (not vegan) or kefir (not vegan), which are great for speeding up the natural yeast process development.
The basic sourdough starter is vegan friendly, but double check with your bakery what's in their sourdough starter.
READ MORE
Sourdough Bread
Although I sometimes add live yoghurt to my sourdough starter to speed up the yeast development and to make my sourdough starter stronger, I know that most bakers don't do that.
This means that regular sourdough bread has only plant based ingredients and it suitable for a vegan diet.
The basic sourdough bread is vegan friendly, but double check with your bakery or home baker what their sourdough starter contains.
MORE SOURDOUGH BREAD RESOURCES
Sourdough Rolls
I usually make my sourdough bread rolls in the same way I make my sourdough bread, but I know some people like to add butter to make their bread lighter.
Sourdough rolls are usually vegan friendly, but double check with your bakery in case they add butter or eggs to their dough.
Sourdough Pizza
Traditional pizza dough normally consists of just flour, water, yeast, salt and olive oil.
Sourdough pizza base will omit the yeast, but the rest of the ingredients will remain the same. It's safe to say that sourdough pizza base is vegan and whether the whole pizza is suitable for vegans will depend on your toppings.
Sourdough pizza base is vegan friendly, but double check the pizza toppings to make sure it's fully vegan.
Sourdough Pancakes
I love making my own sourdough pancakes using sourdough starter discard. It's a great way to use up all the sourdough starter and not to waste any flour and ingredients.
Depending on what I have in my fridge and kitchen cupboard I either make them in the traditional way or vegan.
At this point I should say that my vegan baking is caused mainly by budget, the lack of ingredients and my preference towards dairy free (plant based ) milk and not because I'm a vegan.
Sourdough pancakes are not vegan friendly, if you buy them in the supermarket, but if you make them at home, it's very easy to make them vegan.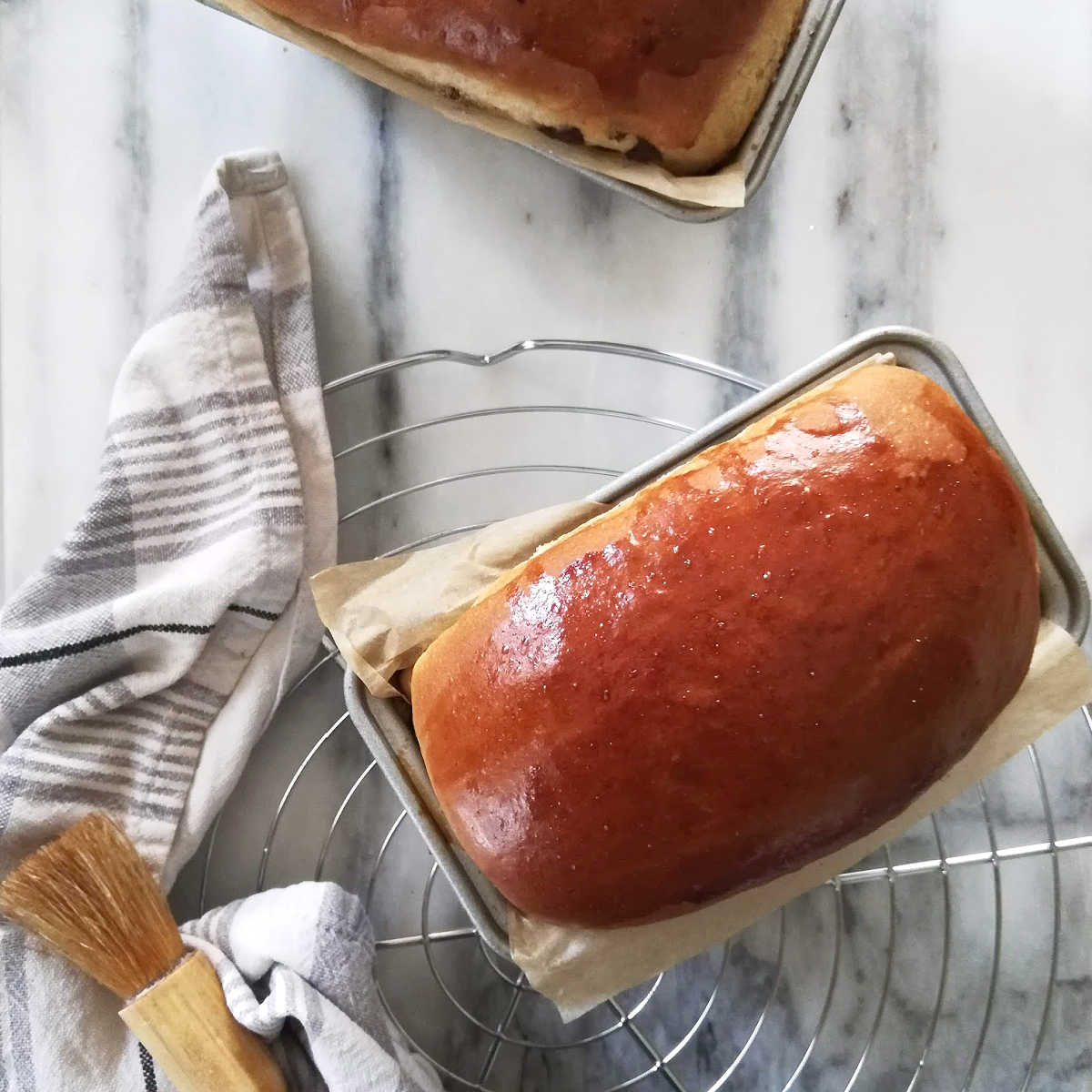 MORE BAKING TIPS
Sourdough Brioche
Brioche type dough is often used for making brioche buns for meat or other savoury burgers, sweet brioche rolls or bread and sweet filled brioche breads with chocolate, cinnamon or other flavours.
Brioche dough usually includes full fat butter, milk and eggs amongst other ingredients.
If you do come across sourdough brioche it is very unlikely to be vegan friendly. Saying that, it's possible to make vegan brioche or sourdough brioche, which taste just as nice and light as the traditional brioche.
Sourdough brioche is not vegan friendly, but double check with your bakery if they make a vegan version of sourdough brioche.
Sourdough Panettone
Traditional panettone recipe has an enriched bread dough, which means that it contains real butter, milk, egg yolks (and often egg whites).
Unless you find a sourdough panettone that's specifically labelled as vegan and made with plant based ingredients, the chances are that sourdough panettone won't be vegan.
Sourdough panettone is not vegan friendly, but double check with your bakery if they make a vegan version.
MORE BREAD BAKING TIPS
Sourdough Doughnuts
Sourdough doughnuts are great to taste. They have a much deeper flavour than regular doughnuts and the ones I've tried seem a lot less sweet and really chewy.
Everytime we go to a Rich Mix cinema in Shoreditch in London, we pop in to Brick Lane and indulge in one of Crosstowns's sourdough doughnuts. The flavours are amazing and as far as I know some of their doughnuts are also vegan.
Sourdough doughnuts made using traditional recipe are not vegan friendly, but double check with your bakery as they might be doing a special version of the traditional recipe which might be vegan.
Sourdough Croissants
Since sourdough baking has spilled into enriched dough, I've seen (and tasted) sourdough croissants which have started to appear in artisan bakeries.
The traditional croissant is made with a lot of real, full- fat butter, which (combined with fine layers of the dough) makes the lovely flakey layers of traditional croissants.
Since butter is essential for the structure and the taste of croissants, it's very unlikely that sourdough croissants would be vegan.
Sourdough croissants are very unlikely to be vegan friendly, but double check with your bakery, in case they have managed to make croissants with a real butter replacement.