Easy to make scones recipe made using sourdough discard and flavoured with cheese and rosemary. This recipe is my perfect way to use up discarded sourdough starter. Delicious for a brunch, afternoon snack or a luxury breakfast!
Over the years, I've tried and tested this recipe many times using different flavours and types of flours, but I always come back to this version.
Why make this recipe?
Quick & easy recipe for savoury scones
It's a perfect snack or a quick breakfast on a run!
Fab taste, kind of 'melt in your mouth' taste with a very slight sourdough taste (this will depend on the strength of your own sourdough starter
Great way to use up discarded sourdough starter
LIKE THIS RECIPE? SAVE IT FOR LATER
MORE SCONES & QUICK BREADS RECIPES
My top tips on making scones successfully first time round
Only handle the dough as little as possible – don't over mix it or knead it or you'll end up with tough scones
When re-rolling the dough to make more scones only lightly push it together, don't kneading it to keep the dough light.
When using the pastry cutter, cut straight down the dough and don't twist the pastry cutter as you do this. This helps the dough to rise straight up, when it's in the oven.
When brushing the scones with milk or cream before baking, make sure that you don't end up with the liquid running down the sides of the scones. This can sometimes prevent the scones from rising in the oven as the milk bakes on the sides and creates a seal for the dough.
Use strong – mature cheddar cheese for best flavour
Lightly crush the rosemary with the back of your knife (or something similar) to make sure you get as much flavour as you can from the herb.
The cream is what makes this recipe crumble and literally melt in your mouth, so don't swap it
SOURDOUGH STARTER RESOURCES
Any specialist equipment needed?
No, not at all, a baking tray, oven and your hands is all you need to make this scones recipe!
Saying that it's handy to have a round cutter – I've used smaller 5 cm pastry cutter for my scones. You can use a large 6-7 cm cutter if you want your scones to be large size.
If you don't have a round cutter, use whatever you have – for example a smaller glass. You can also easily cut the scones into squares with a sharp knife or a dough scraper.
Ingredients & Possible Substitutions
Flour
For this savoury scones recipe, we will be using plain – all-purpose flour suitable for cake making.
If you don't have enough of all purpose (plain) flour, you can also mix it with other low gluten or gluten-free flours such wholemeal cake flour, spelt or buckwheat flour.
To keep light texture, I wouldn't normally use more than 1/3 of wholemeal flour to 2/3 of plain flour, but that's personal choice.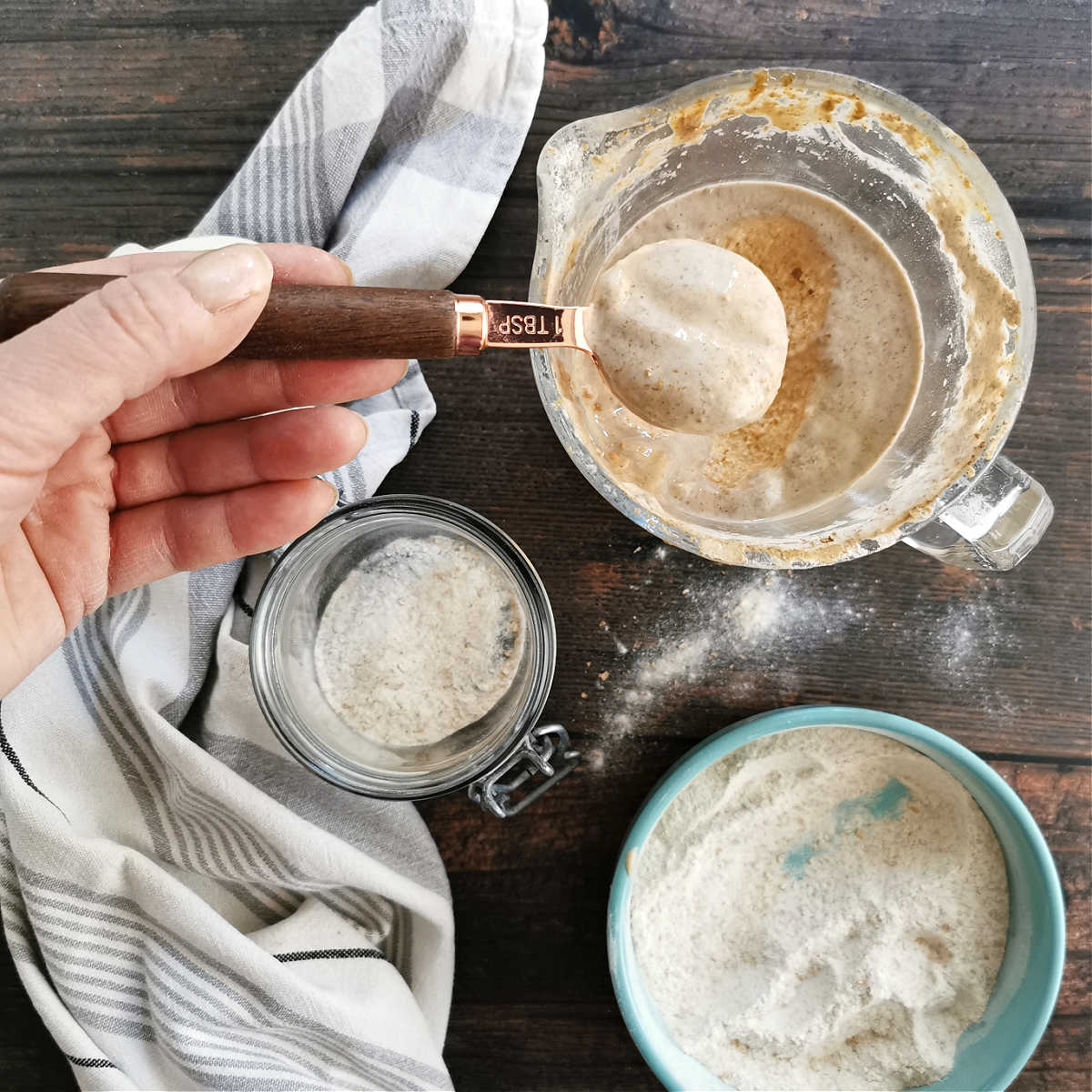 Sourdough starter
I've used my sourdough starter discard for this recipe. This is the part of sourdough starter that's separated from the main starter, so that you can add fresh flour and water to 'feed' your sourdough starter.
It's usually not very active, so it won't be very good for rising bread or scones on it's own, but it's perfect as a flavour.
I've developed this recipe, especially for my bread baking courses students to show them how they can use 'leftover' sourdough. If you don't have a sourdough starter just split the sourdough starter weight in two and add extra flour and cream to compensate for the sourdough starter.
My recipe assumes, that your sourdough starter is 50% water and 50% flour. If it's not, don't worry just keep an eye on the dough texture.
Crumbly is good, but if you find the dough too try add a bit more liquid – that's if your sourdough starter is slightly thicker than 50% flour. If your sourdough starter is very runny (e.g. more than 50% water), just don't add the whole amount of the cream at the beginning and only add it if needed.
READ MORE
Cheese
Use a good quality, strong, mature cheddar cheese for the best flavour. Other hard cheeses, such as Gouda, Emmental, Edam or similar are also suitable, but it's best to stay clear of soft cheeses. These usually just end up melted on the baking tray and that's a bit of a waste.
Rosemary
Fresh rosemary is just amazing in this recipe and compliments well cheddar cheese and the sourdough starter. You could use other fresh herbs, just as wild garlic, thyme or chives. Alternatively, you could use a small amount of dried herbs to add a hint of flavour.
Baking powder
Since we are using discarded sourdough starter which is not really active, we still need something to help our scones to rise. I prefer to use baking powder as some people find baking soda a bit too strong (it can sometimes make the scones taste a bit metallic)
It might seem like there is quite a lot of baking powder in this recipe, but it's all needed. Measure it out carefully – a level tablespoon is all we need.
Salt
Salt helps to bring all the flavours together, so make sure you add some in. Fine cooking salt is best or add the salt to the cream first to dissolve if using sea salt. If you are using a particularly salty type of cheese, you can add less salt than the recipe states.
Butter
Unsalted butter is best for this recipe. If you don't have enough unsalted butter, you can use 50% salted and 50% unsalted, but don't add any extra salt to your recipe.
Egg
One medium or large egg is all you need for this recipe.
Cream
This is the secret ingredient in this recipe, that just makes these sourdough scones amazing! Skip it or swap it at your peril, you've been warned!
Honestly, the main difference in taste (even if you are making sweet scones) is the cream.
My recipe will still work if you want to use the same amount of milk (any type), single cream, creme fresh, white yoghurt thinned down with milk or water. You can even use just water, but it will impact the overall flavour of your scones.
How to make Sourdough Cheese & Rosemary Scones
In a large bowl, add the flour and the butter and rub the butter into the flour with your hands.
Add the all purpose (plain) flour, sugar, baking powder and salt and mix well.
Ad the grated cheese and rosemary and mix them in.
In a mixing jug measure out the cream or buttermilk, add egg and whisk together with a fork.
Add the cream mixture into the flour and very briefly mix together until you have a crumbly mixture.
Turn the dough mixture on to your kitchen counter and bring together to form a round. Don't overmix – if it looks crumbly, that's absolutely fine!
Place on your baking tray and cut down with a baking scraper into 6-8 pieces or use a cutter to cut out round scones.
Place them on a baking tray lined with a baking parchment or with flour
Preheat your oven to 180C (about 350 F).
Brush the top of your scones with extra cream or milk and sprinkle more cheese and rosemary on the top.
Bake your scones for 15-20 minutes or until golden brown. If they are getting brown too quickly reduce the oven temperature by 50F or 20 C.
Check that your scones are ready by pushing a wooden toothpick or wooden skewer through (if it comes out clean – dry, your scones are ready).
Cool on a cooling rack and eat on the same day or freeze for later.
How else you can make this recipe?
Use a slightly different flour – for example wholemeal cake flour or gluten free flours. Other flavours that go well together
Cheese & Walnuts
Cheese
Dried Figs & Rosemary
Walnuts, Dried Figs & Rosemary
Garlic & Cheese
Onion & Cheese
Bacon
MORE SOURDOUGH BAKING RESOURCES
Allergies & dietary requirements
As it is, this sourdough savoury scones recipe contains wheat (gluten) and milk, so it's not suitable for people with gluten intolerances and vegan diets.
Can I scale up or down this recipe?
Yes, absolutely, you can double this recipe to make more scones. This is perfect if you are baking for a large crowd or want to freeze some scones for later.
Making just half of this recipe, is a little trickier because you'd need 1/2 egg.
You can use powdered egg and make up the equivalent of 1/2 egg (see the package for instructions). Alternatively, you can use 1/2 of real egg and just the other half to make an omelette with more eggs.
How to serve sourdough cheddar & rosemary scones
Scones are perfect as they are! Warm from the oven, eat them on their own or add a bit of butter. They are great with pate, more cheese or cold meat cuts. Scones also go well with soup or as a side dish to accompany meat stews or casseroles.
Can this recipe be made in advance?
Whilst scones are best on the day you bake them (or few hours after you've taken them out of the oven), you can bake them in advance (say 1 day) and then re-heat them in the oven or microwave before serving.
If you want to bake them even earlier before you need them, I would freeze them once they are cool and then defrost them on the day you need them. Warm them up in the oven before you serve them for 5 minutes on 180C or 350C or in a microwave for 10-15 seconds.
How to store scones
If you have any leftovers, your sourdough scones will be fine for 2-3 days in a paper or plastic bag in a bread bin or something similar.
This recipe and me
I was looking for a recipe that I could use for my sourdough discard other than just a yeasted bread or pancakes. I couldn't really find anything suitable.
This was back in 2010 when sourdough baking was practically unheard of and the lifestyle columnist in Guardian was appalled at £10 price tag for a true sourdough bread. Little did he know!
Anyway, I had my favourite sweet scones recipe, which I thought could work as a savoury one, so I experimented with it and after a few trial and error bakes I worked out the proportions of the sourdough starter against the rest of the ingredients.
The flavouring was partly inspired by an Australian damper bread recipe which included walnuts, figs or dates and rosemary and was made even better with the slight tang of the sourdough bread starter.
READ MORE
Frequently asked questions & Troubleshooting Scones
I've included frequently asked questions to help you to bake your scones to perfection. If there is anything else you'd like to know just let me know!
My scones are dense, what happened?
One of the main reasons, why most people's scones end up a bit rubbery is because they overwork them. Honestly, you just want to throw everything together to create a crumbly, flaky, messy dough. Don't knead it and don't add in extra flour even if your hands are sticking to the dough.
Sourdough Cheese & Rosemary Scones
Easy to make scones recipe made using sourdough discard and flavoured with cheese and rosemary. This recipe is my perfect way to use up discarded sourdough starter. Delicious for a brunch, afternoon snack or a luxury breakfast!
Equipment
round pastry cutter

or small jam jar or glass to cut the pastry
Ingredients  
270

grams

plain white flour

2

teaspoons

baking powder

½

teaspoon

salt

75

grams

unsalted butter

1

egg

90

ml

double cream yoghurt or milk

60

ml

sourdough starter

1

small handful grated cheese plus extra for toppings

1

tablespoon

fresh rosemary

1

Milk for brushing & extra flour for dusting
Instructions 
Preheat your oven to 180 C (fan assisted) or 200 C electric oven (Gas Mark 6) or 350 F.

Mix together flour, baking powder, salt and butter and with your fingertips, work the butter into the flour mixture until it turns into a crumbly mixture.

Add grated cheddar cheese and lightly crushed rosemary and stir in with a wooden spoon.

Mix the egg, cream and sourdough starter together – in a separate bowl.

Add the egg mixture to the flour mixture and quickly stir in with the wooden spoon.

Turn the dough on a work counter and knead very briefly. At this point, the least you handle your dough, the better. The dough shouldn't look too smooth, in fact it should look a bit rugged.

Roll out the dough to about 1 inch or 2.5-3 cm thickness.

Cut out the scones using 5 cm round pastry cutter. You will make about 7-8 from this amount of dough, depending on how thick you roll out your dough. When using the pastry cutter, cut straight down the dough and don't twist the pastry cutter as you do this. This helps the dough to rise straight up, when it's in the oven.

Place your scones on baking tray (greased or lined with baking parchment) and brush the tops with milk. Don't let the milk to run down the sides, as this, again prevents the scones from rising in the oven.

Bake for about 10 – 15 minutes, depending on your oven and the size of the scones. Check with a wooden skewer to find out whether the scones are done – if the skewer comes out dry, they are done.

Let to cool a little on a wire rack and then serve. These scones also freeze well.
Nutrition
Calories:
225
kcal
Carbohydrates:
19
g
Protein:
4
g
Fat:
15
g
Saturated Fat:
9
g
Polyunsaturated Fat:
1
g
Monounsaturated Fat:
4
g
Trans Fat:
0.3
g
Cholesterol:
53
mg
Sodium:
512
mg
Potassium:
65
mg
Fiber:
1
g
Sugar:
2
g
Vitamin A:
438
IU
Vitamin C:
0.1
mg
Calcium:
122
mg
Iron:
1
mg