One question I often get asked during my sourdough bread baking class is 'Is sourdough bread good for weight loss?'.
Since I'm sure you already know that swapping a home baked bread for shop bought is always a good idea, I wanted to find out more about the benefits of eating sourdough bread.
First of all I have to say, that I'm not a nutritionist, just a keen sourdough bread baker, who likes to know what she eats. I don't do diets, but love the science behind the food.
And the only diet (well it's not really a diet as such) that makes any sense to me is to understand the food GI (Glycemic Index) and low FODMAP (which is all to do with sugars in various food groups and causing digestive problems).
This is because when I was growing up, sugar was practically in everything I ate and learning about how to minimise the sugar in my diet was a fairly tough process. (Obviously, not the learning bit, but the 'doing' bit…)
Anyway, back to our question.
SOURDOUGH BREAD BAKING TIPS
Is sourdough bread really good for weight loss? The quick answer
Sourdough bread is perfect for a balanced diet and can aid weight loss because it has a lower glycemic index (GI), easy-to-digest gluten, friendly bacteria and a delicious taste!
It's also fairly filling, so one slice (or 1/2 large slice) will be enough for most apetites. A slice of sourdough bread (medium size about the same as sandwich loaf bread size) is approximately 100 calories.
You can control the size of a homemade slice of bread by using a bread slicer or bread-cutting guide.
This is not much different than regular bread, but it's the nutritional value of sourdough bread that's much bigger (and better) than regular white sandwich bread.
What is sourdough bread?
Sourdough bread is traditionally raised with a mixture of flour and water in which wild yeasts have been encouraged to grow by keeping it warm and allowing it to ferment over a period of days. This is called sourdough starter, which is then used to mix into more flour, water and salt and made into a dough.
This bread dough is then left to prove for long periods of time. This could be anything from 24 hrs to 48 or more. During this time, it bread starts to turn sour and develops a characteristic tangy flavour. 
Nutritional value of sourdough bread
The nutritional value of one slice of sourdough bread can vary depending on the brand and size of the slice. On average, one regular slice of sourdough bread contains about 174 calories, 33g of total carbohydrates, 1.4g of dietary fiber, 3g of sugar, and 6.9g of protein.
The same slice also contains about 385mg of sodium, 2% of daily value of saturated fat, and 14% of daily value of iron. The ingredients of sourdough bread typically include flour, water, salt, and a sourdough starter culture made of wild yeast and lactic acid bacteria.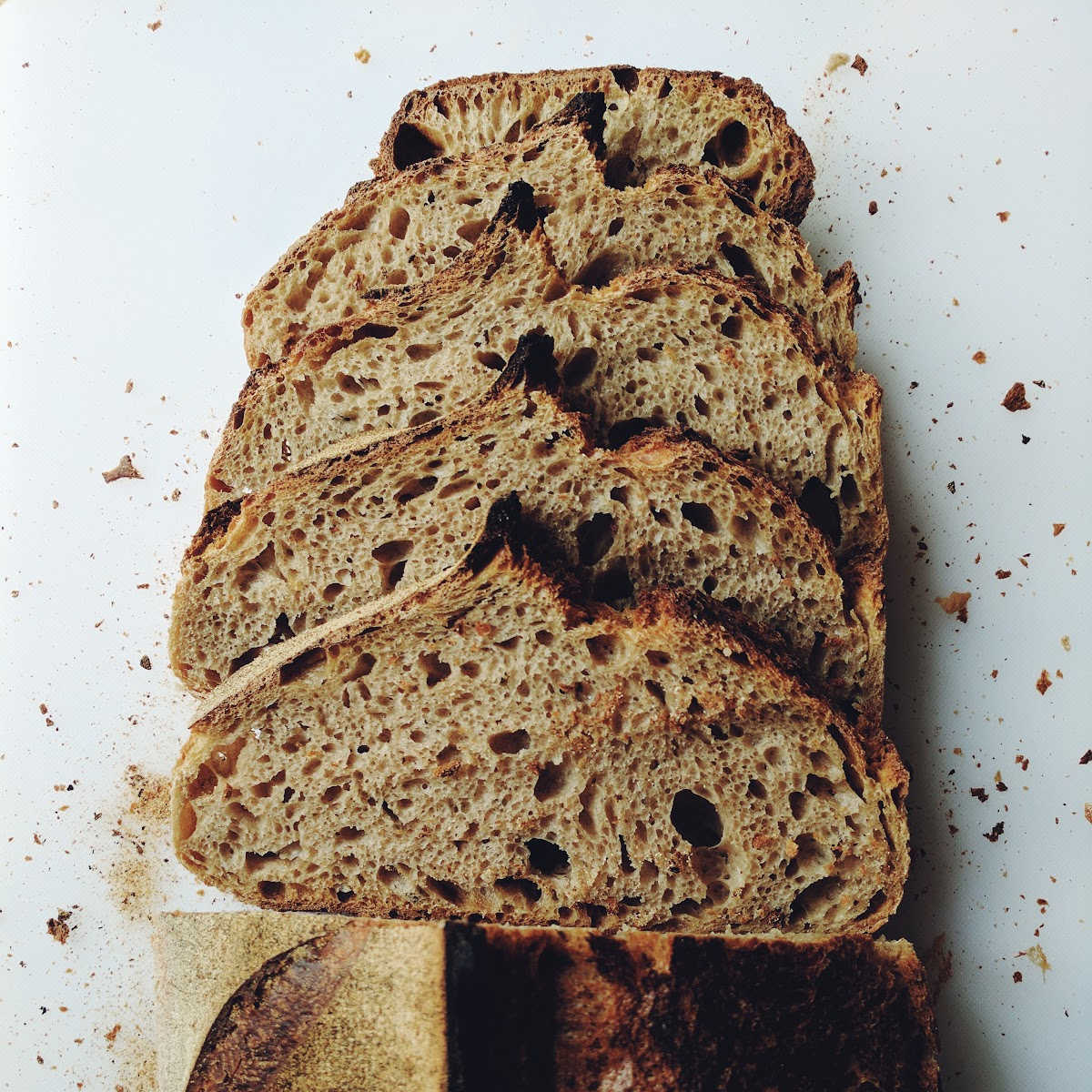 The Glycemic Index (GI) of sourdough bread
The glycemic index (GI) of sourdough bread is around 54, which is lower than regular white bread that has a GI of around 72-90. The long fermentation process of sourdough bread lowers its starch content, making it a low GI food that is great at controlling blood sugar levels.
Sugar in Sourdough Bread
The sugar content in sourdough bread can vary depending on the recipe and the fermentation process. Unlike commercial bread that often contains added sugars, sourdough bread is typically made with just a few simple ingredients: flour, water, salt, and a sourdough starter. However, some sourdough bread recipes may include a small amount of sugar, honey, or molasses to help feed the yeast and bacteria during the fermentation process.
The problem is not not just the actual sugar added to the bread, but the fact that carbohydrates (the bread flour…) turn into sugar once they are in our bodies.
When we eat carbohydrates, our digestive system breaks them down into simple sugars, mainly glucose. The glucose is then absorbed into the bloodstream, causing the blood sugar levels to rise. As blood sugar levels rise, the pancreas produces insulin, a hormone that helps regulate blood sugar levels by signaling cells to absorb glucose from the bloodstream for energy or storage. Once the cells absorb glucose, the blood sugar levels begin to fall.
How does sourdough bread help you to lose weight?
Can just swapping one type of bread for another have any effect?
Most people try to cut down on bread when they start to look after their health or when they try to lose weight.
And most people (including my nutritionist friends) would agree that mass-produced shop-bought white bread is probably the worse type of bread to eat. It's so processed and virtually has no nutritional value.
So, swapping white bread for any kind of other bread is definitely a good move. And as it turns out swapping any bread for sourdough bread has even more benefits.
MORE SOURDOUGH BREAD BAKING TIPS
The difference between regular bread and sourdough bread
First of all, you need to understand how proper sourdough is made. I say 'proper' because supermarket sourdough often includes sourdough culture, vinegar and other ingredients that make the bread taste like sourdough, but the actual process is very different.
This type of sourdough often also includes commercial produced yeast, which real sourdough doesn't have. 
So, the reason why sourdough bread is so good for our diets, is because it's made with natural yeast, over long period of time (anything from 24-48 hrs) and usually includes wholegrain flours such as rye. 
The sourdough starter itself is usually cultivated first for more than a week. This slow fermentation process includes lots of healthy bacteria, which help to balance the digestive system and improve our metabolism. 
A high-fiber diet reduces your body's production of insulin, and smoothes out blood sugar levels. Which helps you feel full longer, cuts back on cravings, and makes you less likely to overeat.
The fermentation process makes sourdough act like it's got more fibre than any other bread.
Sourdough bread study
Volunteers in a recent study who ate sourdough for breakfast had the lowest and most stable blood-sugar levels all day. 
The study found that either the sourdough leavening or even taking organic acids and adding them to the bread dough itself could have some positive benefits in terms of metabolic response.
Another study published in Advances in Nutrition found that sourdough bread made with wholemeal flour could help a person lose excess weight due to the combined glycemic index (GI) and glycemic load (GL) ratings.
MORE SOURDOUGH BREAD BAKING TIPS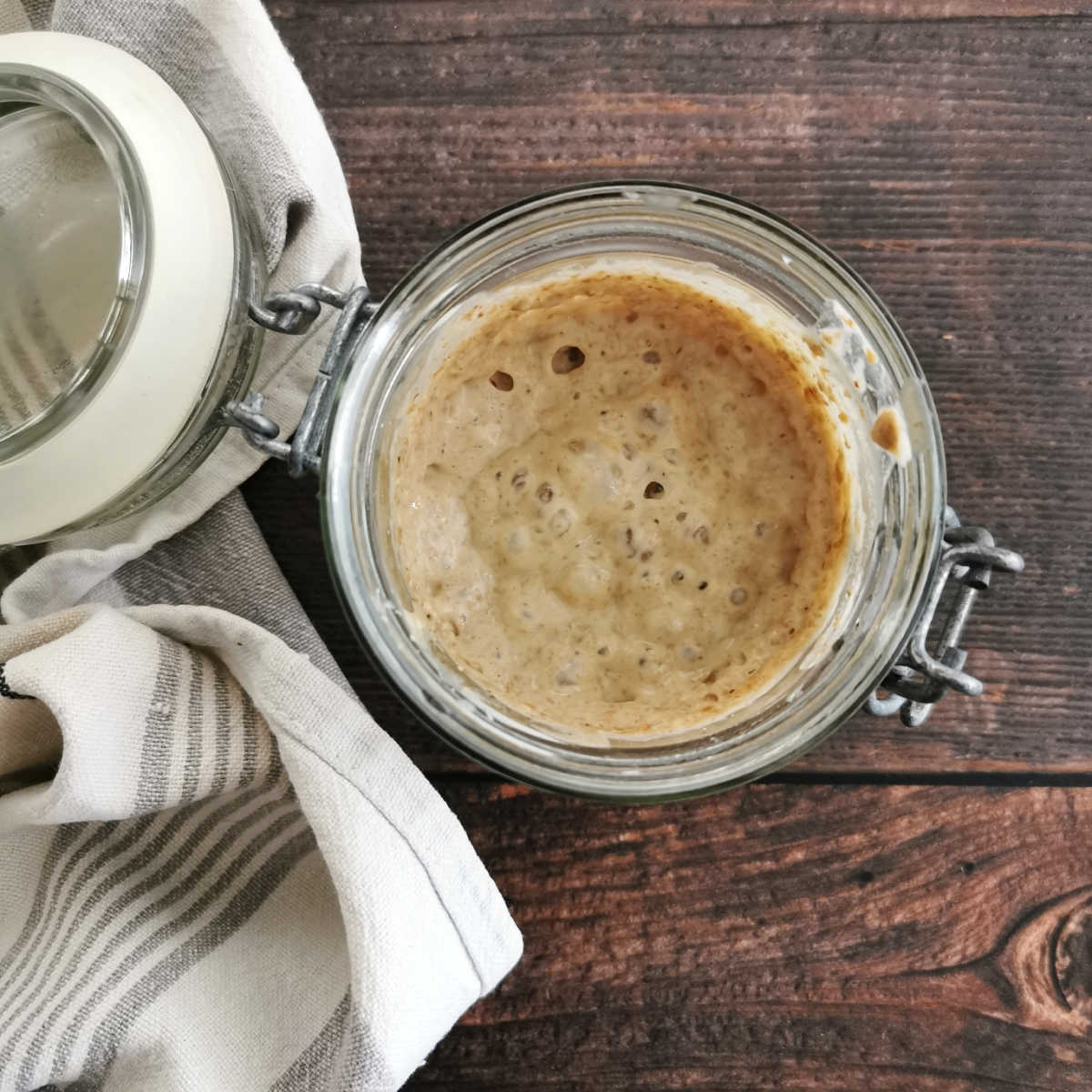 Sensitivity to yeast and the impact on digestive system
Sensitivity to yeast can cause problems with digesting food. Some people may experience digestive problems such as bloating, gas, abdominal pain, and diarrhea after consuming foods that contain yeast or other types of fungi.
This condition is known as yeast intolerance or fungal sensitivity and may be caused by an overgrowth of yeast in the gut, an immune response to yeast, or a deficiency in digestive enzymes that help break down yeast. Yeast intolerance can be diagnosed through elimination diets or breath tests, and treatment may involve avoiding foods that contain yeast or taking probiotics and digestive enzymes to improve gut health.
You can also be allergic to yeast and whilst yeast allergies are rare they can occur in both children and adults. The symptoms of a yeast allergy may include skin rash, itching, hives, swelling, difficulty breathing, and digestive problems such as nausea, vomiting, and diarrhea.
Yeast allergy can be diagnosed through skin prick tests, blood tests, and elimination diets. People who are allergic to yeast should avoid products containing yeast, such as bread, beer, and wine, and may need to carry an epinephrine auto-injector in case of a severe allergic reaction.
Sourdough bread is raised with natural yeast over long period of time
Sourdough bread is made with a sourdough starter, which is bubbling full of natural yeast. It works in the same way as commercial yeast, but it takes a lot longer. Once the natural yeast helps the bread to rise and the bread is baked, the yeast naturally disappears and it's finally killed off in the oven because of the high temperature.
Once baked real sourdough doesn't contain much (if any!) yeast, which is again really good for our digestive system. Commercially produced bread takes 45 minutes from the sack of flour to the final wrapped loaf, whereas sourdough bread can take up to 48 hrs or more.
Commercial bread is also made with extra strong yeast and usually double the quantity that you would normally put in your homebaked bread. This means that the yeast is still present when you eat commercially produced bread.
This is how a lot of people become experience sensitivity towards yeast and even develop yeast allergies. Needless to say, you won't have this problem with sourdough bread.
Which sourdough bread is best for weight loss?
Rye Sourdough Bread
Wholemeal Sourdough Bread
Seeded Sourdough Bread
Any homemade sourdough bread
Any sourdough bread bought in artisan bakery or farmer's market
Like with other types of breads, the more whole wheat bread you choose the better the nutritional value, the longer it will fill you up and the lower the GI.
So, as much as I love white flour sourdough bread, rye sourdough would be much better choice. Rye flour has low GI, which means that it won't cause a spike in your blood sugar levels and fills you up for a lot longer than a white flour sourdough.
Saying that, white sourdough bread is still much better choice than white supermarket sandwich loaf.
I should also mention, that if you are buying your sourdough bread (and there is nothing wrong with that!), check where you are buying the sourdough bread from.
I like to buy different sourdough breads when I'm travelling (since I don't have the facilities to bake my own sourdough bread) and I always try to find a local farmer's market or small artisan bakery.
MORE SOURDOUGH BREAD BAKING RESOURCES
Which type of sourdough bread is not that good?
I don't tend to buy sourdough bread in the supermarkets, because they are very unlikely to be a true sourdough.
To aid digestion, the proving time needs to be fairly long (and to get the best flavour). Small bakeries would bake their sourdough bread over 24-48 hrs (or sometimes even longer), whereas supermarket bakeries don't have the time to do that.
Because of that, the cheaper versions of sourdough breads contain baker's yeast and other ingredients to make the bread rise quicker. These are, of course, not true sourdough breads and they are only marginally better than the regular sandwich toast bread, although they will taste much better than basic white bread.
The best way to eat your sourdough bread
The other amazing reason why sourdough is so good for weight loss is because you need to chew it properly.
And I'm sure that you already know that to make sure our food is digested properly and that our body gets the maximum out of the food we eat, we need to chew it properly first.  
With basic white bread is really easy just to swallow a whole chunk without properly chewing it first, but with beautifully baked rye sourdough bread is pretty much impossible.
Not only that you can't physically 'just swallow' a whole mouthful in one go, but also the wonderful taste of sourdough will send a signal to your taste buds, which in turn will want to keep that delicious piece of food in your mouth for bit longer! 
How much sourdough bread is O.K to eat a day?
To be honest, I try my best not to eat sourdough bread every single day, because I know that whilst marginally better than regular bread, it's still mainly carbohydrates, so I try not to indulge too often. I would have perhaps one slice every other day with my breakfast – for example if I'm having eggs I'd have toasted sourdough with it.
As a general guideline, the USDA recommends that adults consume 6-8 servings of grains per day, with at least half of those servings coming from whole grains like whole wheat, brown rice, and quinoa. One slice of sourdough bread can count as one serving of grains, but it is important to consider the overall nutritional value of the bread and balance it with other foods in the diet. It is also important to note that some people may need to limit their intake of bread due to health conditions such as diabetes or celiac disease.
Including one slice of sourdough bread in your daily diet may not necessarily hinder weight loss efforts, as long as you consume it in moderation and balance it with other healthy foods.
However, it is important to remember that weight loss ultimately depends on creating a calorie deficit, which means consuming fewer calories than you burn through physical activity and daily functions. Therefore, it is important to consider the overall nutritional value of your diet and balance your intake of bread with other nutrient-dense foods such as fruits, vegetables, lean protein, and healthy fats.
What to eat with sourdough bread for well balanced diet
 It goes without saying, that if you make all the effort to buy or make sourdough bread, that you shouldn't top it up with tons of unhealthy toppings or spreads. 
The toppings don't have to be expensive or extravagant – keep it simple with toppings like humus, tomato, cucumber, mashed avocado with spices, cheese, homemade cottage cheese with chives, peanut butter, lean meats and green leaves.
If you want to turn sourdough bread into a meal, add a simple homemade herb butter with a delicious vegetable soup and you have the perfect light lunch.
So, what do you think now? Is sourdough bread good for weight loss? I think it is and it's certainly one the best breads to taste. So what's not to like? 
If you would like to learn how to bake your own sourdough bread, you are welcome to join us for our Sourdough Bread Course or you can find step-by-step instructions in my Bread Book.
Look forward to seeing your bakes and reading your comments
Happy Baking!
Magdalena 
This blog post was originally written on 29 September 2017 and last fact-checked and updated on 14 August 2023