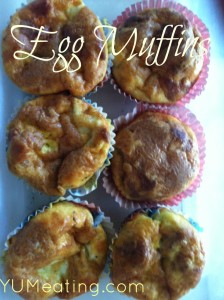 Pinterest has been an addiction of mine since its early Beta stages.
I find it much easier to search Pinterest (and hey, its a lot more fun, too!) for recipes that fit my wants and needs. In an effort to try and help my early morning routine, I knew I needed to find something I could make quickly and grab as I was going out the door for my morning walk.
I don't have many options (at least not that I have learned yet) since being switched to a lower carb way of living.
I landed on Egg Muffins. Extremely simple. Every pin I found had a different set of ingredients so I just improvised a little bit.
I also had 11 muffin liners.
Basically my recipe consisted of Oscar Meyer Turkey Bacon. I cooked half the package, let them cool, then crumbled them into smaller pieces. I didn't have any regular bacon on hand. I'll be honest – I buy what is on sale.
I beat 8 eggs, added 1/4c skim milk, salt, pepper, cheese flavored sprinkles, garlic and onion powers. You can add your own amounts to your taste. Omit garlic and onion if they aren't your flavors. I know some people add hot sauce to theirs. Also, feel free to add full-fat milk, 2%, or even try non-dairy alternatives. I used cheese flavored sprinkles, you can certainly use real cheese. I just didn't have any one hand at the time.
Divide between the muffins, sprinkle in some turkey bacon, and then I baked on 350 for 30 minutes.
Once they were cool I put them in a giant Tupperware container in the fridge.
In the morning I pop them in the micro for 10 seconds while our K-cup coffee machine spits its brew. Out the door we go.
One thing I learned, spray the liners before putting the egg mixture in!
Breakfast Idea: Egg Muffins
Ingredients
½ package bacon (type is your choice)
8 eggs - beaten
¼ c milk - type is your choice
salt - to taste
pepper - to taste
cheese - to taste
garlic powder - optional - to taste
onion powder - optional - to taste
cupcake liners
cooking spray
Instructions
Preheat oven to 350.
Beat 8 eggs, add ¼c milk, salt, pepper, cheese, garlic and onion powers.
Place cupcake liners in pan.
Spray liners with cooking spray.
Divide egg mixture between the muffin tin/cupcake liners, sprinkle in bacon.
Bake on 350 for 30 minutes.
Once cool put them in a giant container to store in the fridge.
In the morning pop them in the microwave for 10 seconds.