Blueberry crumble for one made in the microwave using gluten free flour. Suitable for Low FODMAP and gluten free diet, but can be also made with a regular – plain or cake flour.
Why make this recipe?
Easy & quick to make microwave pudding
Single serving portion for one – very economic to do
Can be made gluten free or with regular flour
Swap the blueberries for other fruit or berries you have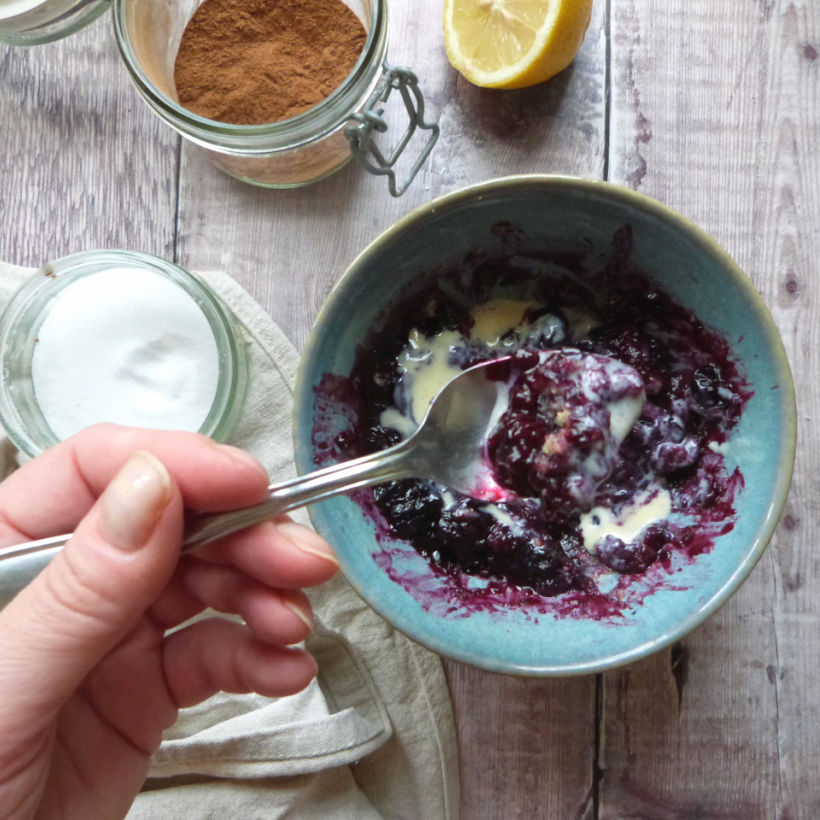 MY FAVOURITE PUDDING RECIPES
Is it a blueberry crumble or a blueberry crips?
It depends where you are in the world. My blueberry crumble recipe is called 'crumble' in the UK and Europe and 'crisp' in the USA. It's a basically soft fruit baked with a crumbly topping of flour, sugar and butter (and sometimes oats for extra crunch).
You can make the crumble (or crisp) from most fruits (and any combination you like) apart from the very watery or soft ones such as watermelon (which are better eaten fresh or you can also can watermelons to preserve them for later).
The crumble topping recipe is very simple (flour, butter, sugar) and can be made in advance and kept in the fridge (or freezer) for later. This means that you can easily cook the fruit in the microwave (or on the hob), add the ready made topping and finish warming everything up the microwave for extra 30 seconds or so.
This recipe & me
Sometimes it's nice just to have a pudding for one. I work from home most days and often feel absolutely starving by lunch time.
This usually means that I have my 'dinner' at lunch time and by the time my other half comes home from work I'm already eating my pudding!
And the reason why this is a microwave version is because it's quick to do for one person and also when I was writing my recipe for Blueberry & Rhubarb Crisp a lot of people were asking me whether you can make in the microwave.
Well, the good news is that, whilst I wouldn't make the large crisp (or crumble) in the microwave because the topping get's way too soggy, on the small scale it doesn't seem to matter that much (or maybe I'm too hungry to care!)
As you can see from my photos live of a food blogger is a very hungry one and sometimes, it's impossible to wait to eat the food until after the photos are taken.
I'm getting rather a dab handed at eating with one hand and taking photos with the other!
Notes on ingredients for your blueberry crumble
For the fruit filling you will need
blueberries fresh or frozen (can be other small berry fruit if you like)
lemon juice (or lime juice)
sugar (any kind of sugar, honey, replacement sugar etc)
cinnamon, apple pie spice, mixed spice or gingerbread spice or similar
I've used cinnamon in this recipe, but my apple pie mix spice works also well with this recipe.
For the crumble topping you will need
flour – gluten-free flour or normal plain (all purpose) flour (I sometimes use a gluten free flour mix with my homemade potato flour or add rice or lupin flour)
sugar
oats – Scottish, rolled oats or other types of oats
butter – or plant based butter – melted
tiny pinch salt
The other reason, why this blueberry crumble is made for one person is because I make it gluten free.
If you don't have a gluten free flour or you can have gluten, please just carry on reading, because you can easily swap the gluten-free flour for normal plain (all-purpose flour) without any problem.
MORE PUDDING & DESSERT RECIPES
What other fruits can you use for making this microwave crumble for one?
Fruits that you can use to keep this recipe Low FODMAP
Other fruits you can use with the same cooking and ingredients instructions
If you are not worried about following any particular dietary requirements, you can also use any other softer fruits, such as:
Rhubarb – cook it for a little longer and add more sugar
Apple – longer cooking will be required (extra 30 sec -1 minute)
Pear – longer cooking will be required (extra 30 sec -1 minute)
Blackcurrant – Red Currant
Blackberries
Dark Cherries (Morello Cherries)
Peaches – perfect with an almond flour instead of regular for the crumble topping
Apricots
You can also mix the fruit together to give you different flavours or if you don't have enough to make the whole portion.
How to make Microwave Blueberry Crumble (for one)
Mix the blueberries with the sugar, spice and lemon juice.
Put in a microwavable bowl or a large mug and microwave on full power for 2-3 minutes. Stir after each minute. You should end up with a slightly runny blueberry jam.
The blueberries don't need to be completely cooked through as they will carry on cooking with the crumble on the top.
Whilst the blueberries are cooking, mix the dry ingredients for the topping in a bowl.
Melt the butter (but don't make it too hot) and add to the dry ingredients to form a crumble mixture.
When your blueberries are nearly done, top the bowl with the crumble topping and put back to the microwave for further 3-4 minutes.
Check that the flour in the crumble mixture feels baked/cooked – if not add another 30 sec or so.
MORE PUDDING & DESSERT RECIPES
Scaling up this recipe
I've tested this recipe mainly with one bowl and for one person.
When I make more I usually make the crumble into a separate bowl, because then I don't need to re-calculate the recipe amounts and don't need to use another bowl or baking tray to make the crumble.
Making this recipe for two is easy enough. Make the recipe twice into two bowls and place them both in the microwave at the same time.
It will take about 1,5 the amount of time when you make two bowls as opposed to just one.
Start with the timings in the recipe and then add 1-2 minutes if the fruit or the crumble is not quite done. This really depends on the fruit and flour you use, so it will vary from time to time.
How to serve your blueberry crumble
Eat straight away, when it's hot. This Blueberry Crumble is perfect as it is or it's even better with a Vanilla Ice Cream or hot custard cream.
You can also use any other kind of cream or fruit sauce if you wish. I love using my homemade pear syrup to drizzle over the vanilla ice-cream, it's so delicious!
You can of course eat it cold or re-heat it later if you want to.
MORE PUDDING RECIPES
How to store & keep blueberry crumble
This recipe for microwave blueberry crumble for one is best eaten straightaway. It's warm and comforting and perfect as it is.
But, if you need to keep the crumble for later (or you made extra portions, that you don't need right now), leave the crumble to cool down first, then cover with something like a plastic bag, cling film, bowl cover or a even a small plate and place in the fridge.
The crumble will last about 2-3 days in the fridge. It's fairly well preserved with the butter and sugar, so it might last even a bit longer.
The wonderful crispness will probably disappear and the crumble topping won't be as crunchy as when you first make it.
Once you are ready to eat your crumble, warm it up for 30 seconds in the microwave to make the crumble hot again. You can also eat the crumble cold straight from the fridge if you really want to.
The blueberry crumble can be also frozen, but when you defrost it the topping will go much soggier than before and will probably sink in to the berry compote. It will still taste great, but it won't look amazing. You can add more toppings, ice-cream or fresh fruit to cover it and serve.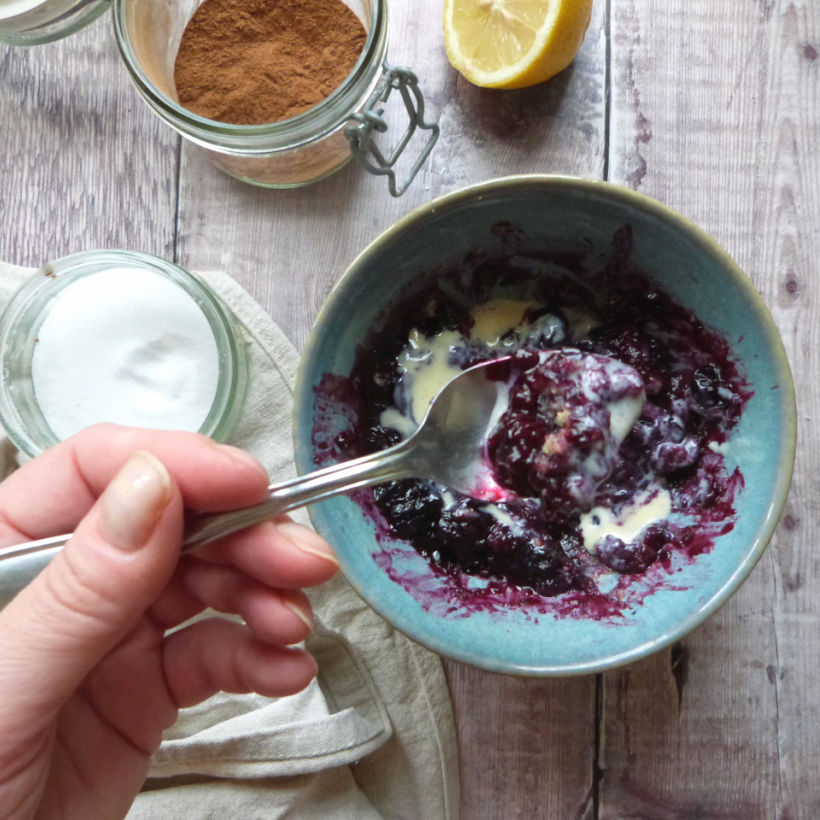 Microwave Blueberry Crumble for One
A quick fruit pudding for one made with blueberries, cinnamon and oat's crumble topping. Blueberry crumble for one made in the microwave using gluten free flour. Suitable for Low FODMAP and gluten free diet, but can be also made with a regular – plain or cake flour.
Ingredients  
Filling
1

cup

blueberries

fresh or frozen

1

teaspoon

lemon juice

2

teaspoons

sugar

1/4

teaspoon

cinnamon

apple pie spice, mixed spice or similar
Topping
2

tablespoons

gluten-free flour

or normal plain (all purpose) flour

1

tablespoon

sugar

3

tablespoons

oats

Scottish or rolled oats

2

tablespoons

butter

melted

tiny

pinch

salt
Instructions 
Mix the blueberries with the sugar, spice and lemon juice.

Put in a microwavable bowl or a large mug and microwave on full power for 2-3 minutes. Stir after each minute. You should end up with a slightly runny blueberry jam.

The blueberries don't need to be completely cooked through as they will carry on cooking with the crumble on the top.

Whilst the blueberries are cooking, mix the dry ingredients for the topping in a bowl.

Melt the butter (but don't make it too hot) and add to the dry ingredients to form a crumble mixture.

When your blueberries are nearly done, top the bowl with the crumble topping and put back to the microwave for further 3-4 minutes.

Check that the flour in the crumble mixture feels baked/cooked – if not add another 30 sec or so.

Serve hot as it is or with a vanilla ice cream
Nutrition
Calories:
312
kcal
Carbohydrates:
71
g
Protein:
6
g
Fat:
3
g
Saturated Fat:
1
g
Polyunsaturated Fat:
1
g
Monounsaturated Fat:
1
g
Cholesterol:
3
mg
Sodium:
54
mg
Potassium:
248
mg
Fiber:
7
g
Sugar:
42
g
Vitamin A:
131
IU
Vitamin C:
16
mg
Calcium:
72
mg
Iron:
3
mg
This blog post was originally written on 22 October 2020 and last updated 7 October 2022