Reheating pancakes can be a bit tricky, as you want to retain their fluffy texture and avoid drying them out. Luckily, there are several methods that make it possible to enjoy leftover pancakes almost as good as fresh ones. I've tried and tested for you my favourite ways of reheating pancakes to show you that you can indulge in delicious breakfast pancakes anytime.
You can reheat pancakes taken from the fridge or freezer and use several different re-heating techniques to heat them up again.
Choose the re-heating method based on what you have at home and what's the most convenient way for you. Some re-heating methods are better than other, but over all you can use any of these to re-heat your pancakes. So, let's dive into the world of reheating pancakes, and find out which method will work best for you.
PIN THIS GUIDE TO KEEP IT FOR LATER
Don't overheat the pancakes
No matter what method you choose, make sure that you avoid overheating your pancakes. This is because the overheating will make your pancakes dry and necessarily melts or overcooks any extra ingredients, such fresh fruit, chocolate chips or pancakes filled with hazelnut or peanut butter spread.
The best way to make sure that your pancakes are not overheated is to preheat the oven, frying pan, griddle, air frier or saucepan to the correct heating temperature before adding your pancakes in. The temperature doesn't have to be as hot as the temperature when you are cooking your pancakes, since they are already cooked and we are just warming them up.
Follow the steps in each re-heating method to ensure that your reheated pancakes remain delicious, crispy, and moist. Remember to serve your pancakes immediately after reheating for the best results.
PANCAKE RECIPES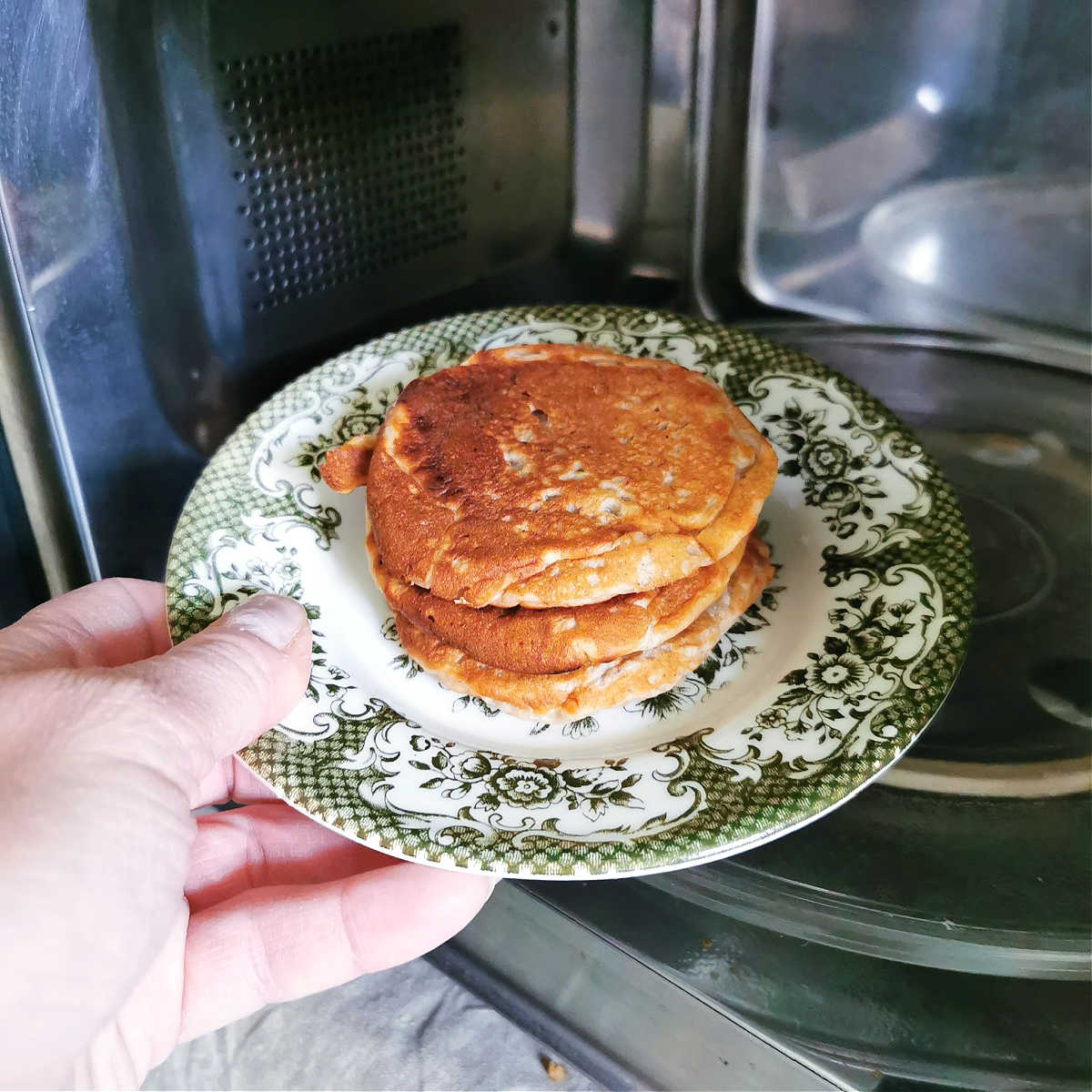 How to reheat pancakes in microwave
Using a microwave is a quick way to reheat pancakes. I usually use small plate to stack my pancakes on top, but you can also use any other microwave suitable container.
It is best to keep the pancakes stacked (2-4 on top of each other) as this helps to reheat them more evenly and prevents them from potentially burning. Heat the pancakes on full power for 15-20 seconds, making sure they don't become too hot.
I sometimes also turn the stack of pancakes upside down after the first 10 seconds, as this helps to heat them up more evenly (they are always hotter at the bottom of the stack).
The pancakes get heated up super fast in the microwave, which is why it's best to keep them stacked up (or watch them carefully if you lay them out individually).
If you find that you are always overheating your pancakes, I'd suggest to turn down the power of your microwave to medium. This way, it will take slightly longer for the pancakes to heat up and you will have more time to catch them before they overheat.
CITRUS FRUITS PANCAKE RECIPES
How to reheat pancakes in oven
The oven method is a great option for reheating larger batches of pancakes. Preheat the oven to 350°Fahrenheit (180°Celsius) and lightly grease a baking tray or line it with a baking greaseproof paper or silicone baking mat.
Spread out the pancakes on the tray, making sure that there are not touching each other. If the pancakes are few days old, spray them with some water (or flick the water on with a pastry brush or even your hands) to help add moisture.
Cover the baking tray loosely with cooking foil and heat the pancakes for 5-10 minutes. After this time the pancakes should be nice and hot.
If you do find that your oven re-heated pancakes still end up slightly dry, choose more runny topping from my list of favourite pancake toppings, such as yoghurt, ice-cream, fruit curd or sweet cream cheese.
How to reheat pancakes on frying pan or griddle
To reheat pancakes on the stovetop, gas hob or induction hob, first warm a non-stick frying pan or griddle over low heat. Lightly grease the surface with butter or cooking spray to prevent your pancakes from sticking to the frying pan. Place the pancakes in a single layer on the heated surface and heat them for approximately 1-2 minutes per side. Be careful not to burn them by keeping the heat low and turning them frequently.
If I'm heating up the pancakes in a frying pan, I often add a tiny bit of water (like a teaspoon at a time) to the middle of the frying pan and put a lid on. The pancakes (in a single layer) get heated up from the heat and also from the steam created the evaporating water. This also helps to keep the pancakes light and fluffy and prevents them from drying out.
SUGAR FREE PANCAKE RECIPES
How to reheat pancakes in toaster
To reheat pancakes in a toaster, place one pancake per one slot directly into the toaster. Set the toaster temperature to a medium setting and toast until they are warmed through, usually about 1-2 minutes. This method is ideal for smaller quantities and provides a slightly crispy texture.
This method works best with plain pancakes without any inclusions (like fruit or chocolate chips or peanut butter fillings).
If you do want to heat up pancakes with extra ingredients in the toaster, I'd recommend getting on of those sandwich toaster inserts, which prevents anything melting into the toaster. The sandwich toaster bags make also taking the pancakes in and out much easier.
How to reheat pancakes in Air Fryer
The air fryer technique is an excellent method to reheat your pancakes without sacrificing their taste and texture.
Begin by setting your air fryer to 350°F (180°C) and removing the pancakes from any packaging or storage containers. It's essential to place the pancakes in a single layer on the air fryer basket to ensure even reheating and crispiness. This means that you might need to heat up your pancakes in several batches, but it's really not a good idea to heat them up stacked up (as they can stick together and don't really heat up properly).
If your pancakes look a little dry, add a little bit of butter on the top of each pancake. This will help to keep the pancakes moist inside and also helps to add flavour.
Once the air fryer is preheated, place the pancakes in the basket and heat for 2-3 minutes.
If you are heating up large or thicker pancakes like scotch pancakes or drop scones, you might like to turn the pancakes midway through the cooking process to make sure they heat up evenly.
PANCAKE RECIPES
How to reheat pancakes over saucepan of hot water
If you don't have access to microwave or oven, you can also warm up pancakes over a saucepan of hot water.
To warm up pancakes over hot water, first add some water (1 inch – 3 cm) to a medium size saucepan and place it on a medium heat and let the water simmer.
Add the pancakes – ideally spaced out to a bowl or plate and place them on top of the saucepan. If you have something suitable, like a large lid or another light plastic bowl, cover the pancakes to make them warm up quicker. Or cover the bowl or plate with cooking foil.
Let the water simmer for 3-5 minutes, by which time the pancakes should be nice and hot. This method will keep the pancakes nice and soft and they won't dry out as when you are heating them in the oven or toaster.
Can you reheat pancakes from frozen?
Yes, you can reheat pancakes from frozen and I often do that, since I can never be that organised to take out the pancakes from the freezer the night before.
You can use any of the heating methods, but bear in mind that the heating time will increase by 1-2 minute for air frier, microwave or toaster and 2-3 minutes for stovetop, induction or gas hob or hot water saucepan. Oven will take the longest, so add about 3-5 minutes extra to the heating time.
Make sure that when you are heating up the frozen pancakes keep them in the single layer (even in the microwave) and turn them around to make sure they heat up quicker and more evenly.
GLUTEN FREE PANCAKES
How to store leftover re-heated pancakes
Once you reheat your pancakes, you should really make sure that you eat them straight away. Re-heated pancakes shouldn't be kept for long periods of time and you should not freeze them.
To keep your re-heated pancakes warm, keep them on a warm plate (with a lid or baking foil on) somewhere warm – either in the switched-off oven (if you've used oven for heating your pancakes), in switched off microwave (it will be still slightly warm from heating up your pancakes) or on saucepan with a hot water (if you've used the hot water simmering method).
Either way, it's best to keep the re-heated pancakes warm until you have the chance to finish them all, instead of re-heating them again.
PANCAKE RECIPES
Can you re-heat previously re-heated pancakes?
It's absolutely fine to reheat pancakes again or (keep them warm) during the same 1/2 day or possibly on the same day, but I really wouldn't stretch that time indefinitely.
It's important to keep in mind that each time you reheat pancakes, the quality may decrease.
The more you re-heat your pancakes and then cool them down, the quicker they dry out, the texture might change slightly and eventually, they will go off. Pancakes made with water last a little longer than dairy based pancakes, but it's still not a good idea to keep them for a long time.
Reheating pancakes too many times can result in them becoming dry and tough. I would really recommend to reheat pancakes only once or twice and if you still can't finish them in that time, eat them cold.
To make sure that you re-heat only what you can eat, only take out the amount of pancakes you are going to eat (either from the fridge or freezer) and heat just the amount you know you or your family are going to finish in one setting.
This blog post was originally written on 3 April 2023 and last updated on 5 April 2023