Homemade blend of warming spices for baking, cooking and dish flavouring. I use mixed spice is for many baking and cooking recipes, especially around autumn and winter time.
It's a lovely mix of spice to have on your spice rack as it has so many uses. Even if you don't use it in baking, a sprinkle of mixed spice in your breakfast smoothie, porridge or hot chocolate always adds a great flavour.
What is 'mixed spice' ?
Mixed spice is originally an English mix of spices with cinnamon, nutmeg and cloves being the dominant spices.
There are subtle differences between Gingerbread Mix Spices (addition of cardamon and anise), Pumpkin Pie Spices (more ginger) or Apple Pie Spice mixes.
Mixed spice is traditionally used in sweet dishes, baking and cooking. You'll probably see it most in autumn and festive winter recipes.
MORE SWEET MIX SPICES RECIPES
Preparing all your spice ingredients
To make this mixed spice mix you'll need all the spices in a ground form.
It's best to freshly ground them yourself, but if you don't have a suitable grinder or pester and mortar, you can buy most of these spices in a ground version.
You might have problems with ground coriander and dill, which is why I have included few options for mixed spice blend without these.
What type of spices are in 'mixed spice' mix?
This is a little tricky to answer, because it depends on who is making it. It depends on the manufacturer, country and different traditions.
In most cases mixed spice consists of:
Cinnamon
Nutmeg
Clove
Ginger
but I've also seen spice mixes with
All spice
Mace
Dill Seeds
Coriander Seeds
Caraway
Cayenne Pepper
Dill, coriander and caraway seeds together with cayenne pepper makes the spice mix more earthy, deeper and spicier. It's a perfect combination if you are thinking of using your mixed spice mix for savoury dishes or using it with strong flavours.
MORE SPICE MIXES
4 simple versions of mixed spice recipe
I appreciate that my recipe mix needs a bit of shopping, so if you don't have all the ingredients, here are a few alternatives
Mixed spice blend (Supermarket Brand Name)
This is a very nice and light mix with the surprise of coriander and caraway seeds. The stronger spices are in small quantities, which makes this mix fairly subtle.
This mix is great for making stewed apples or pears, baking muffins or adding to breakfast oatmeal.
4 teaspoons of Ground cinnamon
4 teaspoons of Ground coriander
1/4 teaspoon of Ground caraway
1/4 teaspoons of Ground Nutmeg
1/4 teaspoon of Ground Ginger
1/4 teaspoon of Ground Cloves
Mixed spice blend (Simple version – supermarket budget brand)
This is a very budget friendly version of the mixed spice, since it includes very common spices, that you probably already have in your food pantry or a kitchen cupboard.
This is a mild spice mix, which is perfect for any sweet baking, adding to porridge, subtle flavouring of homemade apple sauce or adding to a spiced pear syrup.
4 teaspoons of ground Cinnamon
1 teaspoon of ground Ginger
1 teaspoon of ground Nutmeg
1 teaspoon of ground Clove
Mixed spice blend (unusual, but tasty blend)
This mixed spice blend is one of my favourite ones, if I want to use it with strong flavours (like sharp apples or dark chocolate). The extra coriander seeds, ginger and dill seeds make this blend extra sharp and give out a strong taste.
Like with the other recipes, make sure that all spices are first finely ground before mixing them together.
4 teaspoons of ground cinnamon
2 teaspoon of ground coriander seeds
1 teaspoon of ground ginger
1/2 teaspoon of ground dill seeds
1/2 teaspoon of ground Nutmeg
1/2 teaspoon of ground Clove
Mixed spice blend (well balanced version)
This mixed spice blend is nicely rounded with just the right amount of ginger and coriander to spice things up a little.
Mace is made from nutmeg tree flowers, so it has a similar smell and taste like nutmeg, but much more subtle.
1 tablespoon of ground cinnamon
1/2 teaspoon of ground all spice
1/2 teaspoon of ground coriander
1/4 teaspoon of ground mace
1/4 teaspoon of ground ginger
1/2 teaspoon of ground nutmeg
1/2 teaspoon of ground cloves
What is mixed spice called in America?
Whilst it's not exactly the same, you can use Pumpkin Pie Spice to replace mixed spice. Pumpkin Pie Spice has a lot more ginger in than mixed spice and it's possibly less complex than mixed spice, but it can be used instead of Mixed spice in cakes, puddings or baking.
MORE HOMEMADE SAVOURY SPICE MIX RECIPES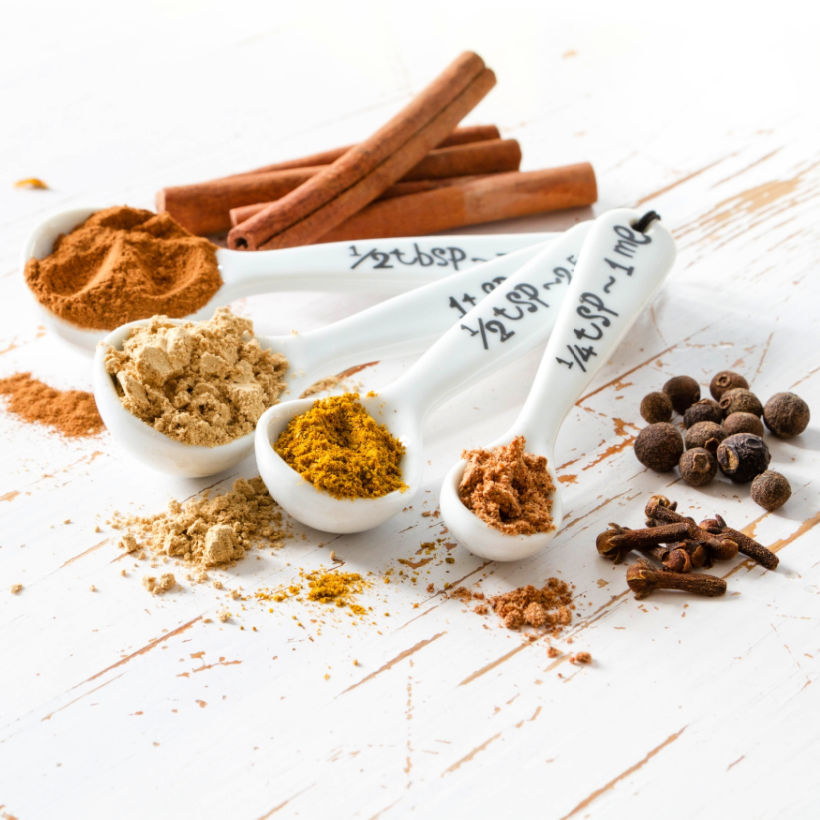 Is mixed spice the same as all spice?
No, not at all! Mixed spice is a blend of different spices (see the recipes & blends on this page) and all spice is an actual type of spice called in latin Pimenta dioica.
All spice looks like a pepper, but the taste is very different. It does have a sweet taste very similar to a mix of cinnamon, cloves and nutmeg.
Out of all these three spices it's probably closest to cloves, so if you have a recipe that calls for all spice you can use cloves instead.
In our mixed spices recipes, if you didn't have cloves or nutmeg, you could increase the amount of all spice to achieve a similar flavour.
How to use mixed spice
Add to cake baking – especially to any Christmas cake, winter biscuits or autumn muffins
Add to your breakfast smoothie
Add to hot porridge or oatmeal
Sprinkle on hot chocolate
You can use it in any recipe that includes cinnamon for a nice flavour mix
Mainly used for sweet bakes and dishes, but you can also add it to sausage mixes, Christmas stuffing or sauces for game meats.
Recipes with mixed spice
What can you use instead of mixed spice?
The easiest thing to do is to mix your own homemade version of mixed spice and have it ready whenever you need it.
But if you don't have all the ingredients at hand, you can always replace the mix with cinnamon. Your cake or whatever you are baking or cooking will have a slightly different flavour, but it won't change the recipe.
If you have other spices, you can add any combination of cinnamon, nutmeg or cloves (or all spice). Make sure that cinnamon is always the dominant spice, so for example if the recipe calls for 1 1/2 teaspoon of mixed spice, you use 1 teaspoon of cinnamon and 1/2 teaspoon of nutmeg (or mixture of other spices you have).
Mixed Spice Recipe – Homemade Mix
Homemade blend of warming spices for baking, cooking and dishes flavouring.
Ingredients  
1

tablespoon

cinnamon

1 1/2

teaspoons

nutmeg

1

teaspoon

all spice (or mace)

1

teaspoon

corriander

1

teaspoon

cloves

1/2

teaspoon

ginger
Instructions 
Make sure that all your spices are ground first.

Measure everything up with a proper measuring spoons

Mix everything together in a jar, label and use up within 6 months.