Traditional Irish potato cakes recipe, made with leftover potatoes and perfect as a side dish or a brunch served with a poached egg.
Why make this recipe?
Perfect recipe for leftover potatoes
Simple side dish or base for a brunch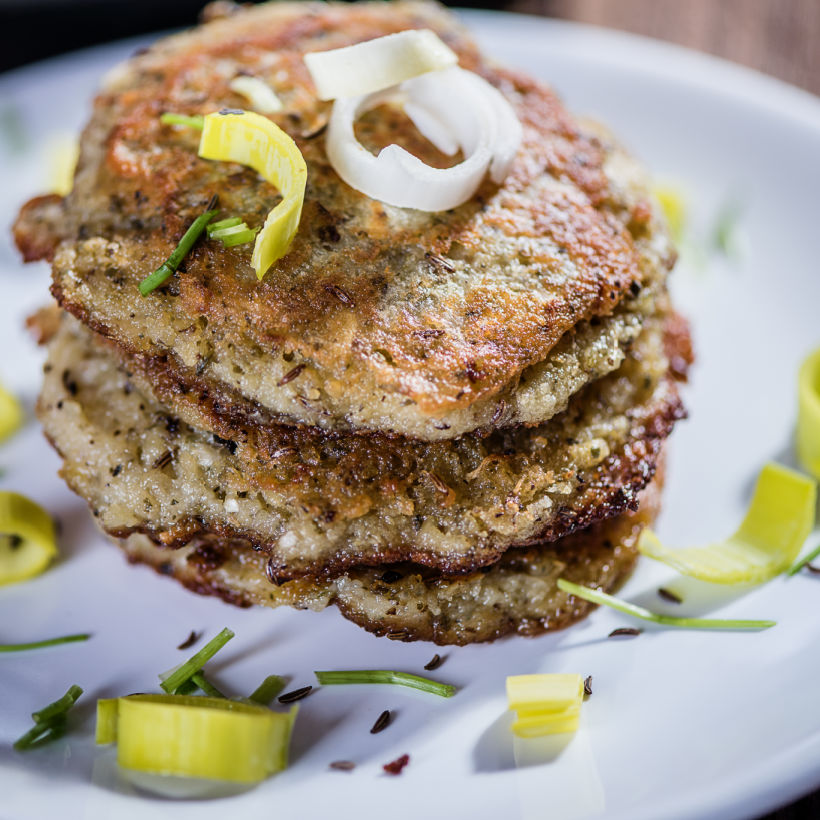 What exactly are Irish Potato Cakes?
Irish potato cakes are similar to Irish potato Farls, but they have less flour in them and usually they are made with an egg. Irish potato cakes are also usually fried, whereas the traditional potato farls can be either dry fried or oven baked.
Any specialist equipment needed?
All you need is a frying pan – any will do, but you can also use skillet, griddle or a heavy bottomed pan or a saucepan.
Ingredients & Possible Substitutions
Potatoes
Traditionally this recipe was invented for leftovers, so use any potatoes that you have. If you are making this recipe from scratch, again use any potatoes that you have, but if you have floury type of potatoes (usually the big ones), they will work really well with this recipe as they have plenty of starch.
Egg
I sometimes make this recipe with egg and sometimes without. It helps to hold the mixture together and it taste very good. But, if for whatever reason, you don't want to use an egg, leave it out.
Flour
Any plain (all purpose) flour will be fine to use, but since it's just a 1-2 tablespoons, you can use even bread flour. Anything you have that will thicken the potato mixture will be just fine.
You can of course use a potato flour, which would work brilliantly with this recipe. Homemade potato flour is simple to make and it's a great way to use up leftover potatoes.
Seasoning
Once you have the basic mixture, you can add any seasoning you like. Salt & Pepper is a must, but other flavours work well too:
Nutmeg
Caraway seeds
Smoked Paprika powder
Fresh herbs like parsley, chives or basil
Additional ingredients
A handful of grated hard cheese (like cheddar)
Chopped up & cooked onion
Chopped up & cooked garlic
Cooked and chopped into smaller pieces bacon or other meat
How else you can make this recipe?
Gluten Free version
Use gluten free plain flour (such as any gluten-free plain flour mix, rice flour, buckwheat flour) to make these delicious potato cakes. Potatoes are naturally gluten free.
Dairy Free version
Use any plant based milk or just water if you need to make your potatoes less thick. Use dairy free butter or coconut oil or omit the butter all together.
Vegan version
The egg can be completely omitted, but when I do that I find that the potato cakes are falling apart a bit. To make sure they don't you can replace the egg with a 1/2 teaspoon of xanthan gum or prepared chia seeds egg replacement mix.
Use plant based butter and milk if you are using any.
What can you serve Irish potato cakes with?
Can I scale up or down this recipe?
Yes, absolutely! I usually cook for just two people, but you are welcome to double or triple the amount of all ingredients and the recipe will work just fine.
Can this recipe be made in advance?
Yes, you can make this recipe up to 1-2 days in advance, but bear in mind that if you are already using a leftover potatoes, that will reduce the amount of shelf-life (even if you keep the potato cakes in the fridge). You can easily make them and freeze them for later.
How to store the potato cake if you have any leftovers
Simply keep them in the fridge for 1-2 days or freeze them on the day you've made them. That's if you've not used already frozen potatoes to make the potato cakes in the first place.
How to re-heat this recipe
Few seconds in the microwave will do the trick or 5-7 minutes in the oven for 180C (or medium heat temperature). You can add them in as you are finishing to cook your main meal or something similar.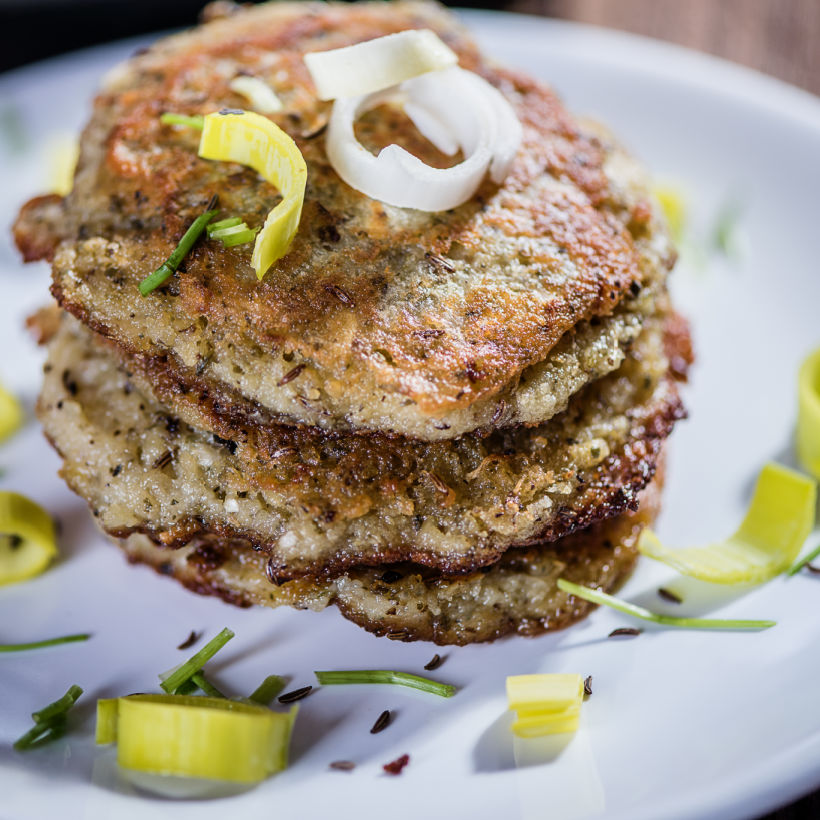 Irish potato cakes
Easy to make recipe for leftover potatoes, which is perfect as a side dish or a brunch served with a poached egg.
Ingredients  
300

grams

potatoes

1

tablespoon

butter

1

tablespoon

plain flour

1

medium

egg

salt and pepper to season

1/4

teaspoon

caraway seeds

optional
Instructions 
use leftover potatoes or first prepare them by boiling or baking in the microwave (and peeling their skin). Whichever method you choose, make sure your potatoes are soft and properly cooked through.

In the medium sized bowl mash the potatoes with a fork or a potato masher until completely smooth.

Add the seasoning – salt, pepper, caraway seeds (if using) and butter and mix all together.

Add the flour and egg and mix together. You should have firmer texture – if the texture is too runny, add more potatoes (if you have them) or flour).

Divide the mixture into about 4-6 pieces and form them into a about 3-4 cm wide rounds. Keep them fairly thick.

Heat a frying pan to a low medium heat, add some vegetable oil and when the pan is hot add your potato cakes. Cook or gently fry the cakes for 3-4 minutes on each side or until they are nice and lightly brown. The only thing that needs cooking in the mixture is the egg and flour, so don't make the pan too hot and burn the outside of the potato cakes.

Serve hot, straight from the frying pan as a side dish for your main meal or perhaps with a poached egg for a brunch.