Sausages are so versatile and a perfect tasty meat dish enjoyed any time of the year. They are super quick to cook, whether you grill, fry, or just warm them up. But, sometimes I struggle with what to serve them with, since most of the time I usually just make mashed potatoes.
This is why I though I'd do a bit of a research to find out that else I can serve with sausages. In this blog post I want to share with you 28 amazing side dishes to serve with your sausages that will not only complement them, but also help you to bring a big of variety to your weekday dinners.
From comforting classics such as mashed potatoes and sauerkraut to lighter options like zucchini noodles and kale and white bean soup, these side dishes offer something for everyone.
I hope that this blog post inspires your culinary creativity and your next sausage dinner will turn into a luxury dining experience!
1. Mashed Potatoes
Mashed potatoes are a classic side dish for sausages. The creamy, smooth texture of the potatoes pairs well with the meaty, robust flavour of the sausages. To make your mashed potatoes stand out, try adding extra ingredients such as garlic, herbs, or cheese. You may also consider using different varieties of potatoes, like sweet potatoes, yukon potatoes or any of the yukon potatoes substitutes, for a unique twist.
RECIPES
2. Potato Salad
Potato salad is another fantastic option to serve with sausages. It's a refreshing, flavoursome side dish that complements the hearty sausage meat well. There are so many different variations of potato salad, but here are the basic ingredients:
Cubed or sliced cooked potatoes (you can use any kind of potatoes)
Chopped vegetables (such as onions, celery, or cucumber)
Cooked smaller vegetables (such as garden peas)
Fresh herbs (like parsley, dill, or chives)
Dressing (including mayonnaise or mustard-based options)
Salt & Pepper (or seasonings such as my Everyday Seasoning Spice Recipe)
Customise your potato salad by incorporating your favourite ingredients and adjusting the flavours to suit your preferences.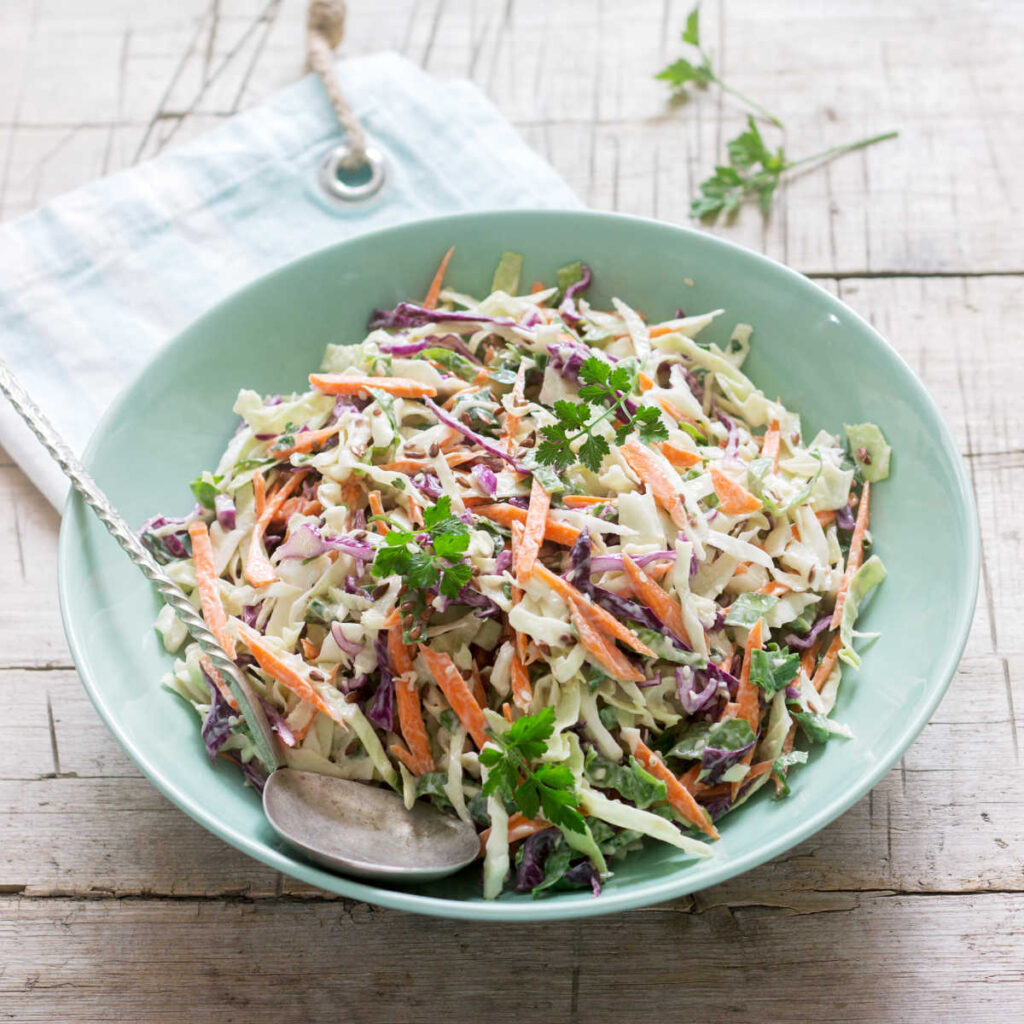 3. Coleslaw
Coleslaw is a cool and creamy side dish that adds crunch to a sausage-based meal and will make it also less dry. Made from shredded cabbage, carrots, and creamy dressing, it contrasts nicely with the rich taste of the sausages. You can create your own coleslaw by combining:
Shredded cabbage (green, red, or a mix of both)
Grated or julienned carrots
Finely chopped onion (optional)
Dressing of choice (mayonnaise, sour cream, or a combination)
You can also try variations like adding apple for a touch of sweetness, or using vinegar-based dressings for a tangier flavour. Regardless of which coleslaw version you choose, it's sure to add a delightful and satisfying contrast to your sausage dish.
4. Baked Beans
Baked beans are a traditional and comforting side dish to go with your sausages. They provide a sweet and tangy contrast to the savoury flavour of the sausages, and are versatile enough to be served alongside different varieties of sausages.
You can make baked beans from scratch or buy them ready made in tins (cans) for convenience, which to be honest that's what I do. Baked beans are also very affordable and I always have a spare tin of beans in my kitchen cupboard. You can go for the regular baked beans, but next time when you do your shopping, look for a version with a rich tomato sauce to add extra flavour to you sausage & baked beans dish.
5. Roasted Vegetables
Roasted vegetables are a fantastic side dish to accompany sausages. They are easy to prepare and can be cooked along with the sausages in the oven, saving time and effort. Some popular choices for roasted vegetables include:
Bell peppers
Carrots
Parsnips
Cherry tomatoes
Red onions
To prepare the vegetables, simply cut them into evenly sized pieces, toss with olive oil, salt, and pepper, and spread them out on a baking tray. Roast at 200°C (392°F) for 25–30 minutes, or until they are tender and slightly caramelised.
RECIPE IDEAS
6. Egg Omelette
I sometimes make an omelette and serve it with sausages (think brunch or big breakfast…) or I use the sausages to incorporate into the omelette.
You can use cooked and crumbled sausage or sliced sausage as a filling for your omelette, along with other ingredients like cheese, vegetables, and herbs. Just be sure to cook the sausage thoroughly before adding it to the omelette, and adjust the seasoning and cooking time accordingly to ensure that the omelette is cooked through and golden brown on the outside.
GET THE RECIPE
7. Grilled Vegetables
Grilled vegetables are another excellent side dish option for sausages. Grilling enhances the natural sweetness and flavour of the vegetables, and the smoky notes of the grill complement the taste of the sausages. Consider the following vegetables for grilling:
Courgettes
Aubergines
Bell peppers
Asparagus
Corn on the cob
Mushrooms
To grill the vegetables, brush them with olive oil and season with salt and pepper. Place them on a hot grill or griddle pan and cook, turning occasionally, until they have nice grill marks and are tender.
RECIPE IDEAS
8. Sautéed Peppers and Onions
A classic combination for sausages is sautéed peppers and onions. This simple yet flavourful dish adds a nice contrast to the meat and is especially popular when serving Italian sausages. To make this dish, you will need:
2 bell peppers (red, yellow or green), thinly sliced
1 large onion, thinly sliced
2 tablespoons olive oil
Salt and pepper to taste
Heat the olive oil in a pan over medium heat and add the peppers and onions. Cook, stirring occasionally, until the vegetables are soft and lightly caramelised, about 10–15 minutes. Season with salt and pepper to taste.
9. Corn on the Cob
Corn on the cob is a classic summer side dish that pairs perfectly with sausages. Grilling the corn adds a smoky flavour and creates a slightly crispy exterior, while boiling or steaming keeps it tender and juicy. To prepare corn on the cob, you can:
Boil: Place shucked corn in a pot of boiling water and cook for about 5–7 minutes, or until tender.
Grill: Brush shucked corn with melted butter and place on a hot grill, turning occasionally, for about 10 minutes, or until lightly charred and tender.
Serve the corn on the cob with butter and a sprinkling of salt or try adding a bit of paprika or your favourite seasoning for additional flavour.
10. Crusty Bread
If you don't want to cook or don't have the time to prepare a side dish from scratch, bread is a perfect choice to serve with sausages. Any type of bread will do, but my favourite include my homemade sourdough, rye bread, or crusty bread.
My favourite way is to just make the sausages into a sandwich. Slice the bread, cut the grilled or fried sausages lengthways and add caramelized onions, peppers, and your favorite condiments like mustard or ketchup.
Another way to use bread and sausages is to turn them into a sausage stuffing, which you can then eat on it's own or serve with mashed potatoes or side salad.
To make bread and sausage stuffing you need to cut the bread into small cubes and mix it with cooked sausage, onions, celery, and herbs like sage and thyme. Bake the stuffing in the oven on 180 C or 350 F until it is golden brown and crispy.
BREAD RECIPES
11. Wraps
Sometimes when I fancy to eat less bread to keep my carbs down, I make my homemade wraps, which are great serve with sausages. I make basic tortilla wraps, add the cooked sausages (cut lengthways to make them a bit thinner) and then add some coleslaw, brown sauce or ketchup or homemade chutney. I make up the tortilla wraps and have them instead of sandwiches to take for a day trip or have them at lunch time.
RECIPE IDEAS
12. Pasta
Pasta also makes a fantastic side dish when you are looking for something to serve with sausages. A simple pasta dish, such as spaghetti tossed in garlic butter or olive oil and parmesan, pairs beautifully with the flavours of the sausages. For a more substantial option, consider serving your sausages over a bed of pasta with a classic tomato sauce or a creamy alfredo sauce.
RECIPE IDEAS
13. Couscous
Couscous is a North African dish made from semolina wheat that has been rolled into small, granular balls. It is a staple food in many North African and Middle Eastern countries, and is often served as a side dish or used as a base for salads, stews, and other dishes.
Couscous can be served with sausages in a variety of ways. My favourite way is to cook the couscous in chicken or vegetable broth, and then mix in sautéed onions, peppers, and sliced sausages. Another option is to serve grilled or roasted sausages on top of a bed of couscous mixed with herbs, spices, and vegetables like roasted tomatoes, zucchini, and eggplant. Couscous can also be used as a base for a cold salad with sliced sausages, cherry tomatoes, cucumber, and feta cheese, dressed with a lemon vinaigrette, which all go really well as side dish with sausauges.
14. Polenta
Polenta is a delicious Italian dish made from coarsely ground cornmeal. It provides the perfect base for robust sausage flavours. Creamy polenta is a popular way to enjoy this dish, providing a smooth and creamy texture that complements the sausages.
To prepare creamy polenta, simply cook the cornmeal with a combination of water and milk, stirring continuously to achieve the desired consistency. Season to taste with salt, pepper or some extra savoury seasoning such homemade chilli spice mix as and a touch of butter or cheese for extra richness.
15. Mac and Cheese
Mac and cheese is a classic comfort food that pairs incredibly well with sausages. There are many variations of mac and cheese, and pretty much any recipe will work. You can also add sautéed onions, garlic, or even diced tomatoes to make the dish more interesting and compliment well to the type of sausages you choose to serve with your mac & cheese.
16. Potato Wedges
Potato wedges are a versatile side dish that can be seasoned and flavoured in various ways to complement sausages. Baked or air-fried wedges, tossed in olive oil and seasoned with salt, pepper, and your choice of herbs or spices, create a delicious and easy side dish. My favourite seasoning options include garlic powder, onion powder, paprika, and rosemary. Alternatively, you can serve the wedges with a dipping sauce to make them less dry and make them into a proper meal with your sausages.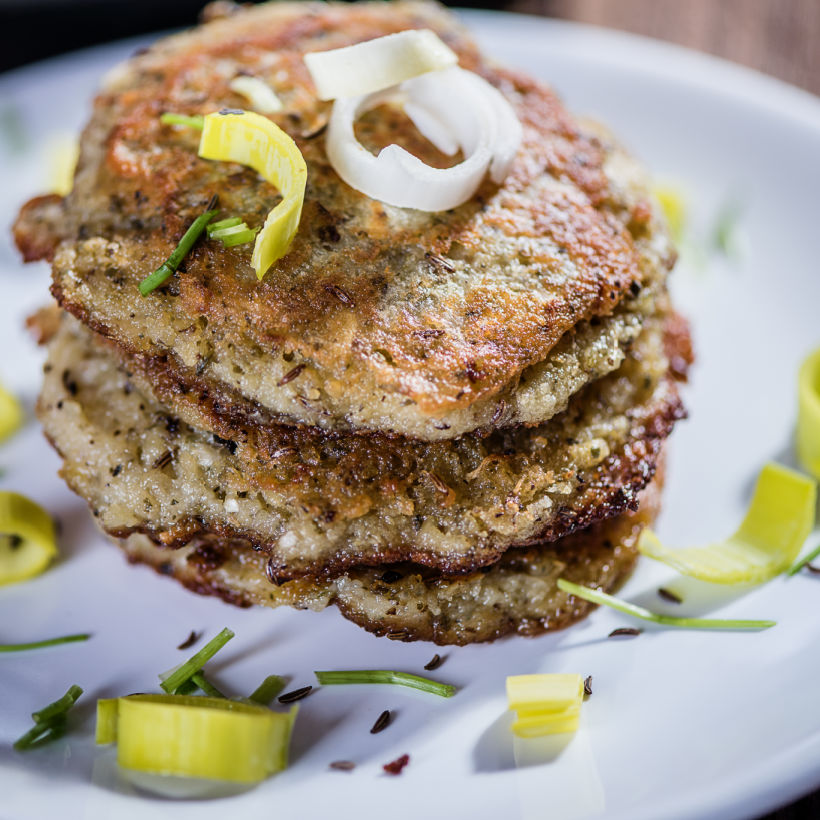 17. Potato Pancakes
My favourite is the traditional Irish potato cakes recipe, made with leftover potatoes, which is super easy to make and it's perfect with any types of sausages even the spicey ones.
GET THE RECIPE
18. Thick Soup
I know that this might sound a bit strange – to serve a soup with sausages, but hear me out! I've done this many times and it's actually really good way of making something out of nothing and it's perfect to use with leftover sausages.
What I do is to choose a soup flavour that compliments the type of sausage I have. I make or heat up the soup as usual and add in chopped sausage (which was previously cooked). It turns a basis soup into a proper meal.
You can use any kind of soup, but I find that vegetable soups (without any meat) are great because the flavours don't clash. For instance, potato soup, traditional vegetable soup, cabbage soup or kale and white bean soup, pairs well with any type of sausage flavour to create a well-rounded and satisfying main meal.
RECIPE IDEAS
19. Sandwich
You can also turn your sausages into a filling meal by serving them in a sandwich. This is great for left over sausages from previous day. I usually slice the sausages sideways to make them a bit flatter and then add them to a fresh soft roll or bread slice and add toppings like sautéed onions and peppers, sliced cheese, salad or coleslaw. For added flavour, you can serve your sausage sandwich with a dipping sauce or burger or brown sauce.
20. Noodles
You can also incorporate a side of noodles to add an Asian twist to your sausage dish. I have previously made sausages with noodles stir-fried in garlic, ginger, soy sauce, and vegetables such as broccoli, bell peppers, and bean sprouts and it was actually really good! Alternatively, you can also make a Thai-inspired noodle dish using rice noodles and a peanut sauce, which will go well with regular type of sausage flavour (like more basic sausages that don't have too much spice in)
21. Cornbread
Perhaps you're in the mood for a Southern U.S. approach – in this case, serve your sausages with a side of warm cornbread. The sweet, crumbly cornbread provides a nice contrast to the rich, savoury flavours of the sausage. You can also add diced jalapeños, cheddar cheese, or bacon crumbles to your cornbread for extra flavour.
RECIPES
22. Caprese Salad
A classic Italian dish that pairs perfectly with sausages is the Caprese salad. It consists of fresh, juicy tomatoes, creamy mozzarella, and flavourful basil leaves, all drizzled with a simple olive oil and balsamic vinegar dressing. This salad complements the rich taste of sausages and adds a light, refreshing element to your meal. It's ideal for warm summer evenings when you want to enjoy your sausages with a side that doesn't weigh you down.
23. Applesauce
Applesauce is a surprisingly delightful accompaniment to sausages. Its natural sweetness and smooth texture cut through the richness of the meat, creating a well-rounded flavour profile. Applesauce or some of the applesauce substitutes can be served warm or cold, depending on your preference, and it's a versatile side that works well with various types of sausages, from bratwurst to Cumberland sausages.
Applesauce might not be enough to serve with your sausages, so I usually add some bread or make mashed potatoes to with the sausages.
24. Salads with Toppings
One way to make your sausage dishes even more appealing is by pairing them with bright, fresh salads that have a variety of toppings. Some options for salads with toppings include:
Mixed greens with goat cheese, cranberries, and walnuts: The fresh greens contrast with the rich goat cheese, tangy cranberries, and crunchy walnuts to create a salad full of intriguing flavours and textures.
Grilled vegetable salad: A mix of grilled peppers, courgettes, and aubergines makes for a colourful and flavourful side dish. Drizzle with a light dressing, and serve alongside your favourite sausages for a satisfying meal.
Quinoa and black bean salad: This wholesome and nutritious salad combines cooked quinoa, black beans, avocado, and cherry tomatoes, all tossed with a zesty lime dressing. It's a hearty side that pairs excellently with meaty sausages.
25. Boilded salad or regular potatoes
Sausage and potatoes make a great pairing as a comfort food side dish. They can be served in a variety of ways, such as in a casserole or as a one-pan meal.
For example, roasted sausages and potatoes can be seasoned with herbs and spices, cooked together in the oven, and served as a warm, hearty meal. You can also make a simple dish by boiling potatoes and sausages together, then mashing the potatoes for a delicious sausage and mashed potatoes combination.
26. Creamed Spinach
Creamed spinach is another excellent side dish to serve with sausages. To prepare creamed spinach, first wilt fresh spinach leaves in a pan with a touch of garlic and butter. Then, create a roux by adding flour and whisking in milk until it thickens. Finally, incorporate the spinach, seasoning with salt, pepper, and nutmeg to taste. This creamy, flavourful side dish complements the savoury taste of sausages, adds a touch of colour to your meal and of course it's healthy too!
27. Sriracha roasted cauliflower
This is a tasty side dish made by roasting cauliflower with spices and hot sriracha sauce. Great to serve with regular type of sausages, which are not spicey or have a strong flavour. The sriracha roasted cauliflower has a geat flavour, but be careful it can be quite spicey. The recipe is also very quick to make and it will keep well in the fridge for 2-3 days.
GET THE RECIPE
28. Baked Regular or Sweet Potato
Baked regular or sweet potatoes are a nutritious and delicious side option to serve alongside sausages. To prepare this dish, simply wash and scrub sweet potatoes, prick them with a fork, and wrap them in aluminium foil. Bake them in the oven at 200°C for 45-60 minutes, or until soft inside. Once cooked, cut a slit in the top, season with butter, salt, and pepper, and serve them with your favourite sausages. Baked regular or sweet potatoes not only bring a hint of sweetness to the meal, but they also add a healthy component, as they are rich in vitamins and fibre.
In the summer or when I don't have much time, I also use microwave to bake my potatoes. All you need to do is to jab the potato with a fork or a knife several times (this helps to release the steam from the potato as it boils). Medium sized potato usually take 8-9 minutes on full microwave power.
RECIPES
This blog post was originally written on 22 July 2023 and last updated on 22 July 2023